CALENDAR OF EVENTS
CALENDAR OF EVENTS
MAY
2019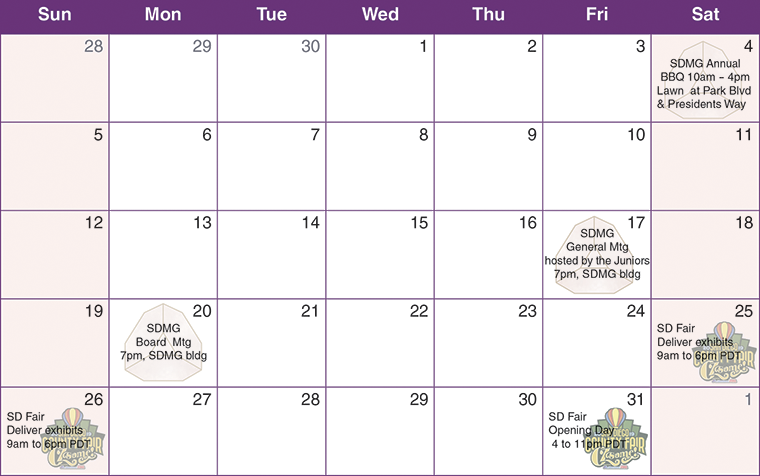 I. SDMG & GSSD Meetings & Events
Fri, May 17, 2019 – SDMG General Meeting, 7pm, SDMG Bldg
Mon, May 20, 2019 – SDMG Board Meeting, 7pm, SDMG Bldg.
Sat & Sun, May 25–26, 2019 San Diego, CA – Deliver Exhibits: San Diego Fair 9am to 6pm, Del Mar Fairgrounds
Shows and events held through June 2019 appear in
The Pegmatite (May 2019)
download a membership application » to receive the bulletin
II. On the Go… To a Show & Other Events
Ongoing San Diego, CA – San Diego Natural History Museum: "The Nat" [exhibition]
Hidden Gems
I. and II. All Meetings, Events & Shows
Ongoing SAN DIEGO, CA– Hidden Gems [exhibition]
San Diego Natural History Museum
Balboa Park
1788 El Prado
San Diego, CA 92101
Admission: Members FREE; Adults $19.95, Seniors (62+)/Military (ID)/Students $16.95, Children 3– 17 $11.95, Kids 2 and under Free.
Hours: 10am – 5pm daily. (CLosed Thanksgiving and Christmas day.)
Website: www.sdnhm.org/exhibitions/hidden-gems/
The Nat shows some extra sparkle with an exhibition featuring 100 gem-mineral treasures from the permanent collection. Dr. Terri Ottoway, who is the museum curator for the Gemological Institute of America (GIA), in Carlsbad, provided curatorial guidance on the selection of items. The unique vertical exhibit was designed by the Nat's in-house Exhibits team and is arranged across all five floors of the Museum's northwest corner. Access to the exhibition is included with admission and free for members.
Fri, May 17, 2019 SAN DIEGO, CA – SDMG General Meeting
Venue: SDMG Bldg.
Spanish Village, Balboa Park
Time: 7:00pm.
Admission and Parking: Free. Public Welcome.
The Annual Meeting Hosted by the Junior Division. The guest speaker will be Gerry "Gem Guru" Alvarado. Please come support the Juniors.
Please bring treats to share; the Club will supply coffee, tea, and punch. And, wait there's more – there will be door prizes.