CALENDAR OF EVENTS
MARCH
2015

Calendar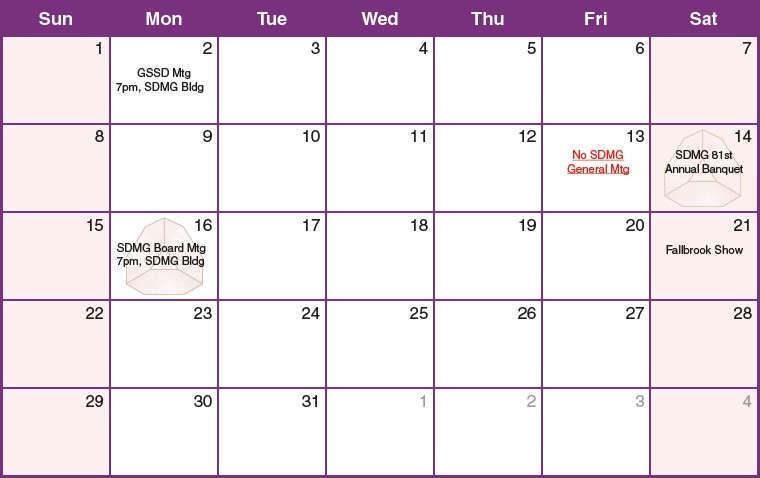 MARCH
2015

MEETINGS & EVENTS

Mon, March 2, 7:00pm GSSD General Meeting SDMG Building

SDMG General Meeting NO Meeting in March (Annual Banquet instead)

Sat, March 14, 11:30am SDMG 81st Annual Banquet, 94th Aero Squadron Restaurant

Mon, March 16, 7:00pm SDMG Board Meeting, SDMG Building
On the Go… To a Show

Sat & Sun, March 7–8 ARCADIA, CA – Monrovia Rockhounds 55th Annual Gem & Mineral Show
Sat & Sun, March 7–8 VENTURA, CA –Ventura Mineral & Gem Society Annual Show
Fri, March 13, 9:00am Borrego Springs, CA – Anza-Borrego Desert State Park
Lecture on Paleontology
Fri, Sat & Sun, March 13–15 VICTORVILLE, CA – 38th Annual Stoddard Wells Rock Hound Tailgate
Sat & Sun, March 14–15 SAN MARINO, CA – 2015 Pasadena Lapidary Show
Sat, March 21 FALLBROOK, CA – FGMS Rough, Cut & Carved: A Special Auction/Sales Event
Shows and events held thru April 2015 are listed in
The Pocket Pegmatite
download a membership application » to receive the bulletin

Fri, Sat & Sun, April 10–12 – Vista Gem & Mineral Tailgate
Sat, April 18 –Thirteenth Annual Sinkankas Symposium – Opal
Jun 5 thru July 5 –2015 San Diego County Fair – "A Fair to Remember"
What's On …
Meetings, Shows, Field Trips & Events
Mon, March 2, SAN DIEGO, CA – GSSD Meeting
Venue: SDMG Bldg.
Spanish Village, Balboa Park
Time: 7:00pm. Free Admission and ample Parking. Public Welcome.
The March meeting will be the club's annual "Show and Tell" theme, so bring specimens from this year's shows in Quartzsite and Tucson. Please be on the look out for any equipment or books that the Society should get for its long-time members and students.
Sat & Sun, March 7–8 ARCADIA, CA – Monrovia Rockhounds 55th Annual Gem & Mineral Show
Venue: Los Angeles County Arboretum (Ayers Hall)
301 N. Baldwin Ave., Arcadia, CA 91017; 1 block south of I-210, Foothill Fwy
Hours: Sat 9:00am – 4:30pm.
Admission: included in Arboretum Entrance Fee. Adults $9.00; Seniors and Students $7.00; Children 5-12 $4.00. Parking is $5.00.
Contact: Joann Ritchie, joannaritchey@gmail.com.
Website: www.moroks.com/annual-show.html
More than 15 vendors selling gems, jewelry, minerals, fossils, beads, findings. Club members will crack geodes, identify rocks in our famous Grab Bags and man the Treasure Wheel, where everybody wins. Visitors can pick out fossils at the Dino Dig and Fossil Find. Grand Prize Raffle on Sunday. FREE hourly drawings for prizes.
Sat & Sun, March 7–8 VENTURA, CA – Ventura Mineral & Gem Society Annual Show
Venue: Ventura County Fairgrounds
10 W. Harbor Blvd., Ventura, CA 93001
Hours: Sat 10:00am – 5:00pm, Sun 10:00am – 4:00pm.
Admission: Free. Parking is $5.00.
Contact: Krishna Juarez, info@VGMS.org or 805-323-6725.
Website: www.vgms.org
Exhibits, dealers and demonstrations featuring gems, minerals, fossils, jewelry. Silent auctions, kids' activities, raffle prizes, country store, plant sale.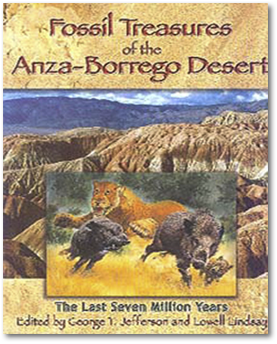 Fri, March 13, BORREGO SPRINGS, CA – Lecture on Paleontology
Sponsor: Anza-Borrego Desert State Park Paleontology Society
Venue: Anza-Borrego Desert State Park (ABDSP) Visitor Center park map | driving directions
200 Palm Canyon Drive, Borrego Springs, CA 92004
Time: 9:00 to noonish.
Admission: Monthly Certification Class lectures are open to the public.

Contact: Dr. Lyndon Murray, District Paleontologist at 760-767-4974 or anzaborregopaleo@gmail.com
Website: www.anzaborregopaleo.org
The Anza-Borrego Desert State Park is the largest desert park in America. Classes for the Paleontology Certification program began on November 7 and includes 160 hours of instruction. Lectures on paleontology and geology, fossil curation and laboratory preparation workshops, and field surveys are held each Friday, November thru May – enrollment in the Certification program is not required to attend the lectures, and the public is welcome.
Fri, Sat and Sun, March 13–15 VICTORVILLE, CA – 38th Annual Stoddard Wells Rock Hound Tailgate
Sponsor: Victor Valley Gem and Mineral Club.
Address: Stoddard Wells Rd. near I15 Get Directions »
Hours: 9:00am – 5:00pm daily.
Admission: Free. Public welcome.
Contact: -760-243-2330.
Website: vvgmc.org/tailgate.html
Dealers: All Vendor spaces are FREE on a first come basis.
Saturday FAMILY Field Trip: Tri-Colored Marble 9:00am – 1:00pm
Contact: Jim Fosse, Wagon Master, info@vvgmc.org.
Handcrafted and Faceted Jewelry, Slabs and Cabs, Findings and Equipment, Minerals and Fossils and TONS of Rough Material. Restrooms, drycamping, food, snacks and drinks, prizes and Rocks, Rocks and More Rocks.
Saturday, March 14, 2015 SAN DIEGO, CA – SDMG 81st Anniversary Banquet
Venue: 94th Aero Squadron Restaurant
Cost: $35.00 per person.
Tickets: On sale beginning Feb. 1, 2015, available through Wed, March 11 at:
· The Village Silversmith's shop in the SDMG Building, open 11:00 am to 4:00pm daily
· Paul Williams at the General Meeting held on Friday, February 20
· Bob Hancock at his faceting classes on Wednesdays
· Chairlady Charlene Churilla, by sending a self-addressed envelope with your check for $35.00
make check payable to: SDMG and send to PO Box 124, Temecula, CA 92593 (post-marked no later than March 6)
The annual luncheon will feature a great program and door prizes. This year's guest speaker will be Roger Merk, on jade.
Sat & Sun, March 14–15 SAN MARINO, CA – 2015 Pasadena Lapidary Show
Venue: San Marino Masonic Hall
3130 Huntington Drive, San Marino CA 91108
Hours: Sat 10:00am – 6:00pm; Sun 10:00am – 5:00pm.
Admission: included in Arboretum Entrance Fee. Adults $9.00; Seniors and Students $7.00; Children 5-12 $4.00. Parking is $5.00.
Contact: Marcia Goetz, joenmar1@verizon.net or 626-260-7239.
Website: www.pasadenalapidarysociety.org/Annual_Show.html
Faceted gems and jewelry, minerals, beads, fossils, treasure wheel, demonstrations, grab bags, fabulous raffle Prizes, free rocks for kids, silent auction, sand scoop, lapidary material, tools and supplies. Club and field trip information, as well as food and games.
Sat, March 21 FALLBROOK, CA – Rough, Cut & Carved: A Special Auction/Sales Event
Sponsor: Fallbrook Gem & Mineral Society.
Address: FGMS Building
123 W. Alvarado St., Fallbrook, CA 92028
Silent Auction & Sale: begins 1:00pm, ends 2:30pm.
Admission: Plenty of free parking in lot across from building. Free FGMS Museum and Gift Shop open 11:00am to 3:00pm
Contact: 760-728-1130.
Flier: www.sdmg.org/sdmg-public/pdf/2015-Fallbrook-Flier.pdf
Come find a treasure at our "Spring Cleaning" event! Offering at Auction and For Sale rough mineral material for lapidary and faceting projects, small carvings, faceted gemstones, plus minerals to carve along with a large selection of slabs.
EVENTS ON THE HORIZON…
Fri, Sat and Sun, April 10–12, 2015 VISTA, CA – Vista Gem & Mineral Society Tailgate
Venue: Antique Gas & Steam Engine Museum
2040 N. Santa Fe Ave., Vista, CA
Hours: Fri and Sat 9:00am – 5:00pm daily
Admission & Parking: Free.
Contact: Ray Pearce, raysrocks@cox.net or 760-726‐7570.
This tailgate is quickly becoming one of the largest rockhound events in Southern California. More than 50 dealers in rough, slabs, cabochons, gems and finished jewelry. Raffle, speakers and other activities.
April 18, 2015 CARLSBAD, CA – Thirteenth Annual Sinkankas Symposium – Opal
Venue: GIA World Headquarters and The Robert Mouawad Campus
5345 Armada Drive, Carlsbad, CA 92008
Registration : Open to ALL now.
Registration Fee: $95.00/person thru March 17; $105.00 from March 18 through April 13. Includes box lunch and a copy of the printed proceeedings, no on-site registration.
Online Registration: 13th Annual Sinkankas Symposium at Benchmark Events (no paper forms this year)
Website: www.sinkankassymposium.net
An impressive roster of speakers is scheduled, including keynote speaker Eloise Gaillou, Raquel Alonso-Perez, Meg Berry, Andrew Cody, Alan Hart, Jack Hobart, Bill Larson, Renee Newman, Nathan Renfro, George R. Rossman and Robert Weldon.
Jun 5 thru July 5, 2015 DEL MAR, CA – 2015 San Diego County Fair – "A Fair to Remember"
Venue: San Diego County Fair (Gems, Minerals & Jewelry Dept.)
2260 Jimmy Durante Blvd., Del Mar, CA 92014
Contact: Fair Coordinator at sdfair@sdmg.org.
General Info: www.sdfair.com
Projected calendar through opening day
· Online Brochure: Available at www.sdfair.com beginning in early-February.
· Paper brochure: Available in Casting Room in early February.
Online entry registration only – first time ever!
· Online entries begins: Sometime in mid-February.
· Online entries deadline: Friday, April 24, 2015, 11:59pm.
· Delivery of exhibits: Saturday, May 30, and Sunday, May 31, 9am to 6pm.
— KOKOPELLI OPALS – NEW FEE DIGGING SITE —
(Hover over slides to pause)

Kokopelli Opals

Hidden in the high desert of northwestern Nevada lies Virgin Valley, where rockhounds and miners have travelled from all over the world to find precious black opal. Kokopelli Opals is a family run business that mines its own opals, designs custom jewelry and sells its products at various gem-rock shows around the country.

Kokopelli Opals is making available never before mined cuts to the public for dig fees. Information about the mine and pricing: www.kokopelliopals.com

Virgin Valley – Home of the precious black opal

Kokopelli Opals is open for fee digging from May 15th thru October 15th.

Hours: 8am–4pm by Reservation only.

Rates: See fee digging rate card. Special rates for rock and gem clubs.

Contact: 530-514-9688

Opal occurs in a variety of colors and types, from the famous black opal to amber-colored honey opal, clear jelly or crystal opal, and pure white matrix of the "lechosos" or milk opal, all of which may display the play of color of precious opal, with most material found in the form of replaced wood and limb casts.