CALENDAR OF EVENTS
SEPTEMBER
2014

Calendar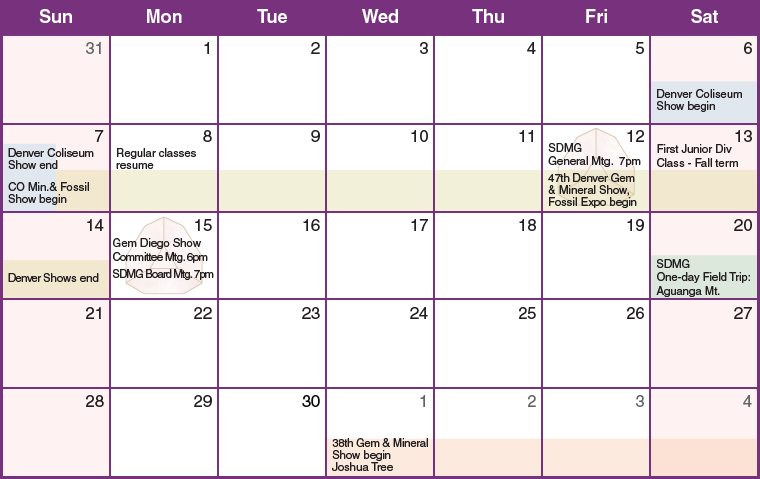 OCTOBER
2014

Calendar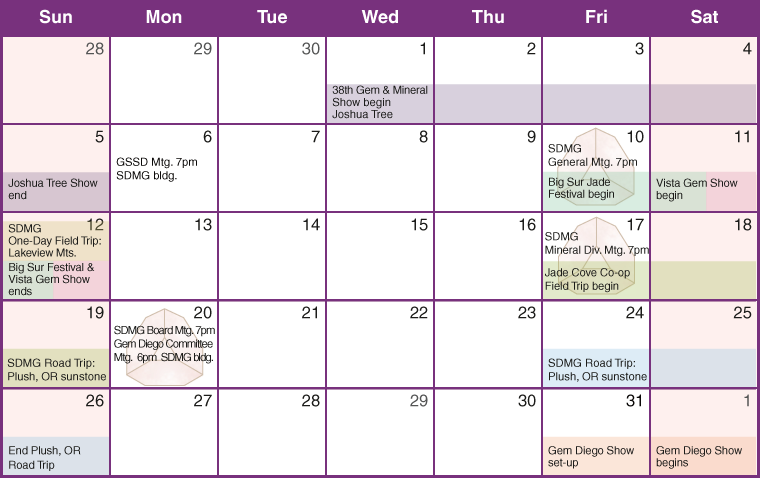 OCTOBER
2014

MEETINGS & EVENTS

GSSD General Meeting Monday, October 6, 2014, 7:00pm, SDMG Building

SDMG General Meeting Friday, October 10, 2014, 7:00pm

SDMG Board Meeting Monday, October 13, 2014, 7:00pm

SDMG Mineral Division Meeting Friday, October 17, 2014, 7:00pm
On the Go… To a Show

Fri, September 19 – Sun, September 28 Richard Mueller's 10-Day Field Trip: Arizona and Utah
Wed thru Sun, October 1–5 Joshua Tree, CA – 38th Annual Gem & Mineral Show
Fri, Sat & Sun, October 3–5 Del Mar, CA – Gem Faire
Fri, Sat & Sun, October 10–12 Big Sur, CA – 23rd Annual Big Sur Jade Festival
Sat & Sun, October 11–12 Trona, CA – Searles Lake Gem & Mineral Society 73rd Annual Gem-O-Rama
Sat & Sun, October 11–12 Vista, CA – Vista Gem & Mineral Society Annual Show
Sat & Sun, October 18–19 Whittier, CA – Whittier Gem & Mineral Society Annual Show
Shows and events held in September and October 2014 are listed in
The Pocket Pegmatite
download a membership application » to receive the bulletin

Sat & Sun, November 1–2 San Diego, CA – SDMG Annual Gem Diego Show
Sat, November 1, Santa Ana, CA – BSOC Workshop: Day of the Dead commemorative necklace
Fri, Sat & Sun, November 7–9 Santa Ana, CA – Martin Zinn Expositions' (Fall) West Coast Gem & Mineral Show
Sat & Sun, November 8–9 Anaheim, CA – American Opal Society 47th Annual Opal, Gem & Jewelry Show
What's On …
Meetings, Shows, Field Trips & Events
Fri thru Sun, September 19–28 – 10-DAY FIELD TRIP: ARIZONA AND UTAH*
Trip Leader: Richard Mueller (*this is not a SDMG-sponsored field trip)
Contact: 619-445-0800 or AZ/UT field trip
A loose itinerary is planned. Gordon Dobell has recently begun unearthing a massive deposit of petrified wood on his ranch near Holbrook, Arizona. For a fee, the public can fill a 5-gallon bucket with 50lbs of choice multi-color wood.
— Itinerary & Materials —
Fri, Sept 19: Depart for Holbrook, AZ
Sat and Sun, Sept 20–21: Check out some of the different shops in Holbrook
and dig at Dobell Ranch:
Where: U.S. 180, 12 miles south of Holbrook
Cost: $30 to fill 5-gallon bucket
Materials: Petrified Wood
Sun thru Sat, Sept 21–27: Moss Back Butte for Petrified Wood
Starr Springs, UT for Coprolite and other rock
Travel north to collect an unusual Rock/Geode a few miles from Hansville, UT
Delta, UT for Dugway Geodes and to Topaz mountain
Sun, Sept 28: Return home to CA
Wed thru Sun, October 1–5 JOSHUA TREE, CA – 39th Annual Gem & Mineral Show
Sponsor: Hi-Desert Rockhounds/Morongo Basin Sportsman's Club of Joshua Tree
Venue: Sportsman's Club
6225 Sunburst St., Joshua Tree, CA 92252.
Hours: Wed noon – 6:00pm; Thu thru Sun 9:00am – 6:00pm daily
Admission and Parking: Free.
Vendor's spaces: 30' wide by 45' deep for the low price of $150.00 for the run of the show, includes campground fees; indoor air conditioned spaces now available: 10' x 10' only $125.00 Wed – Sat only.
Vendor's dinner: Saturday night, one ticket $15 or two tickets for $25.
Contact: 760-366-2915 or jtsportsmans@ymail.com download the PDF flyer at: www.jtsportsmansclub.com/2013flyer.pdf (url says 2013, but the flyer is for 2014)
Website: www.jtsportsmansclub.com/gem.html
Exhibitors and over 60 dealers from around the Southwest offer a huge selection of quality jewelry of all kinds including loose colored gemstones, fine finished jewelry, fashion jewelry, beads, mining equipment, lapidary supplies; 20–40% discount off regular retail prices; raffle drawings; gold panning; free rock and mineral identification. Food available on-site.
Fri, Sat & Sun, October 3–5 DEL MAR, CA – Gem Faire
Venue: Del Mar Fairgrounds
2260 Jimmy Durante Blvd., Del Mar, CA 92014
Hours: Fri noon – 6:00pm; Sat 10:00am – 6:00pm; Sun 10:00am – 5:00pm
Admission and Parking: Adults and Students (12 and up) $7.00; Kids under 12 Free; Parking Free.
Contact: 503-252-8300 or info@gemfaire.com
Website: www.gemfaire.com
Wholesale and retail show featuring fine jewelry, gems, beads, crystals, silver, rocks, minerals, exhibitors, on-site jewelry repair.
Fri, Sat & Sun, October 10–12 Big Sur, CA – 23rd Annual Big Sur Jade Festival
Venue: Pacific Valley School
69325 Highway 1, Big Sur, CA 93920-9612 (across from Sanddollar Beach)
Hours: Fri noon – 6:00pm, Sat 10:00am – 6:00pm, Sun 10:00am – 5:00pm
Admission and Parking: Free.
Contact: Kirk Brock, 831-659-3857 or 831-402-1143
Website: www.bigsurjadefest.com/
The Big Sur Jade Festival features jade and other lapidary arts by artists from the US, Canada and New Zealand. Vendor art, lectures, demonstrations, fine food and 3 days of live entertainment.
Sat & Sun, October 11–12 Trona, CA – Searles Lake Gem & Mineral Society 73rd Gem-O-Rama 2014
Venue: SLG&MS Lapidary and Show Building
13337 Main St. (corner of Main and Trona Rd.)
Hours: Sat. 7:30am – 5:00pm; Sun. 7:30am – 4:00pm
Admission and Parking: Free.
Contact: Jim or Bonnie Fairchild, 760-372-5356 or slgms@iwvisp.com
Website: www1.iwvisp.com/tronagemclub/FLYER.htm (includes accommodations listings)
Collect Searles Lake saline minerals (by permission of Searles Valley minerals), purchase premium Searles Lake pink halite, 21 dealers, 50 exhibits, geode cutting and sales, demonstrations, snacks & drinks, Pancake breakfast (Sat 6–10; Sun 6–9), prizes, Old Guest House Museum, Trona's History House.
FIELD TRIPS – (you drive your own car )
Registration (required): 7:30–9:00am and 1:30–2:30pm
Searles Dry Lake – 2.5 hour trips on Sat and 4.5 hours on Sun)
Mud Trip – Sat Only – Departs ONLY at 9:00am – Cluster and barrel hanksite, trona, borax – $15 per car
Blow Hole – Sat Only – Departs ONLY at 2:30pm – Hanksite, halite, borax, sulfohalite – dry surface – $15 per car
Pink Halite – Sun Only – Departs ONLY at 9am – In brine, beneath hard salt – $20 per car
Pinnacles National Natural Landmark – self-guided (get information at show) – FREE
Searles Valley Minerals' Plants – Sat only: 10:40am, 11:25am, 12:10pm, 12:55 and 1:40pm – in bus – FREE
Sat and Sun, Oct 11–12 Vista Gem & Mineral Society Annual Show
Venue: Antique Gas & Steam Engine Museum
2040 N. Santa Fe Ave., Vista, CA
Hours: Sat 10:00am–5:00pm, Sun 10:00am–4:00pm
Admission & Parking: Free
Contact: Ray Pearce, 760-535-5524 or raysrocks@cox.net
Jewelry, minerals and fossils; Kids' wheel; sand dig for tumbled stones; raffle.
Website: http://goo.gl/DKMda6 (Facebook short url)
Fri, Oct 17, SAN DIEGO, CA – SDMG Mineral Division Meeting
Venue: SDMG Bldg.
Spanish Village, Balboa Park
Time: 7:00pm. Free Admission and ample Parking. Public Welcome.
SDMG Museum curator Jim Parrish will give a talk about kyanite. Bring in some of your mineral specimens to share and discuss. Bring a treat to share.
Sat & Sun, October 18–19 Whittier, CA – Whittier Gem & Mineral Society Annual Show
Venue: Whittier Community Center
7630 Washington Blvd., Whittier, CA (corner of Mar Vista and Washington)
Hours: 10:00am – 5:00pm
Admission and Parking: Free.
Contact: Marcia Goetz, 626-914-5030
Vendors selling minerals, jewelry, gems and collectibles; also display cases, demonstrators, silent auction and raffle.
— KOKOPELLI OPALS – NEW FEE DIGGING SITE —
(Hover over slides to pause)

Kokopelli Opals

Hidden in the high desert of northwestern Nevada lies Virgin Valley, where rockhounds and miners have travelled from all over the world to find precious black opal. Kokopelli Opals is a family run business that mines its own opals, designs custom jewelry and sells its products at various gem-rock shows around the country.

Kokopelli Opals is making available never before mined cuts to the public for dig fees. Information about the mine and pricing: www.kokopelliopals.com

Virgin Valley – Home of the precious black opal

Kokopelli Opals is open for fee digging from May 15th thru October 15th.

Hours: 8am–4pm by Reservation only.

Rates: See fee digging rate card. Special rates for rock and gem clubs.

Contact: 530-514-9688

Opal occurs in a variety of colors and types, from the famous black opal to amber-colored honey opal, clear jelly or crystal opal, and pure white matrix of the "lechosos" or milk opal, all of which may display the play of color of precious opal, with most material found in the form of replaced wood and limb casts.

EVENTS ON THE HORIZON…
Sat, Nov 1, SANTA ANA, CA – Day of the Dead Workshop: Make a commemorative necklace
Presented by: Bead Society of Orange County (BSOC) at the Bowers Museum of Cultural Art
Venue: Bowers Museum, John M. Lee Court
2002 N. Main Street, Santa Ana, CA 92706
Hours: 1:00–4:00pm
Registration: $15 BSOC Members; $20 Non-BSOC members & Bowers Members.
Reservations required; fee payable in advance to workshop instructor.
Materials kit: $17.
Instructor: Barbara Bastrup.
Contact/Reservations: bastrupmail@roadrunner.com
Website: www.bowers.org
Make a fun and colorful skull, flower, and crystal necklace to commemorate the Day of the Dead celebration at the Bowers Museum. Work with beading wire, clasps, jump rings, crimps, beads, and create a pendant. Participants should bring two flat or chain-nose pliers; one round nose pliers for bending head pin; wire cutter; any extra beads for personalizing your necklace. Contact instructor about other details and registration.
Fri, Sat & Sun, November 7–9 Santa Ana, CA – Martin Zinn Expositions' West Coast Gem & Mineral Show
Venue: Holiday Inn-Orange County Airport
2726 S. Grand Ave., Santa Ana, CA 92705 (Exit 8 from the 55 Freeway, at the intersection of Grand and Dyer)
Hours: Fri & Sat 10:00am – 6:00pm, Sun. 10:00am – 5:00pm
Admission and Parking: Free. Open to the public.
Website: www.mzexpos.com
80 dealers, wholesale and retail.
Sat & Sun, November 8–9 Santa Ana, CA – 47th Annual Opal, Gem & Jewelry Show
Sponsor: American Opal Society
Venue: The Phoenix Club
1340 S. Sanderson Ave., Anaheim CA 92806
Hours: Sat 10:00am – 6:00pm, Sun. 10:00am – 5:00pm
Admission: Adults $3.00; Children under 15 Free. Parking is FREE.
Website: www.opalsociety.org
Opal, Gem and Jewelry Dealers from the USA and Australia; raffle with many prizes of gemstones and jewelry; seminars on gemstone and jewelry topics; demonstrations on jewelry making, gemstone cutting.