SAN DIEGO COUNTY FAIR: Out of This World

By Garry Cannon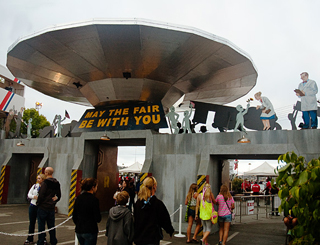 The "Out of This World" theme of the 2012 San Diego County Fair lived up to its billing. Between June 8th and July 4th more than 1.5 million visitors streamed through the gates of the Del Mar Fairgrounds. Many of them stopped by the Gems, Minerals, Fossils & Jewelry Department to view 379 competitive entries submitted by 140 participants. If you didn't get a chance to see the Gem and Mineral Exhibit Hall at this year's Fair, you missed out on some spectacular exhibits – 75 display cases in all.
The exhibits featured submissions from SDMG's own members, as well as members of other local societies, private collectors and organizations, including the GIA, which presented an educational display honoring scientist Dr. Kurt Nassau. Our club was well-represented in the exhibits and our members garnered many awards! Our club had a total of 33 entrants in 37 classes. Among the eligible categories, SDMG members won twenty 1st place ribbons, fifteen 2nd place ribbons, twelve 3rd place ribbons, five Awards-of-Merit, twelve Special Awards and two Cups. View the SDMG Award Winners at the 2012 San Diego County Fair. Special mention this year goes to our own Paul Williams, whose carved spheres garnered awards at both the San Diego County Fair and at the CFMS show in Riverside. His winning ways are described in "The Gold!," (p.4–5) an article by Shirley Leeson and Dee Holland.
Demonstrations included faceting, sphere making, wire wrap, metal clay and chain making. Kids, especially, seemed to be mesmerized by the demonstrations, and they got a big kick out of screening the sandpile for buried gemstone treasures. Designs Unlimited, Dahnke Intermark, Ikon Mining, Volunteers for Minerals, Avi Fine Jewelry and Cinderhill were among the vendors who gave visitors the opportunity to purchase momentos of their day at the Fair, including grab bags, mineral specimens and jewelry.
On behalf of our members, I'd like to thank Greg Anderson (Coordinator), Anne Schafer (Assistant Coordinator), Mike Harlow, Ron Moore, Gladys Walker, Simon King, Wayne Moorehead, Takao Takeuchi, Ray Pierce and Rich Yarbrough for their tireless efforts in putting together a wonderful show. The steady flow of curious visitors to the exhibit hall was a great testimonial to all the folks who volunteered their time in the various demonstration booths, especially Bob Hancock, Larry Shute and Lester Pendergrass. For the many contributors and participants whose names go unmentioned here, their role in putting on a great show can be measured in the overwhelmingly positive impression made on visitors—the lay public—and judges alike. It takes a tremendous amount of time and effort to put on an event like this, and it showed.
Recognition and thanks go out to the people who donated cash prizes for the Special Awards. The judging is done by the donor using his or her own criteria for the award. Anyone can sponsor a prize of any amount and award it to whomever they choose. Some of this year's Special Awards sponsors included Greg Anderson, Irv Brown, John Burton, John and Helen Dahnke, Cal and Kerith Graeber, Scott Maylen, Darwin Warriner and Jan Wittenberg. If you have a particular interest but don't have the time to exhibit at the Fair, next year you may want to consider participating by setting up and awarding your own prize.
Gem & Mineral Competition – Results
The Gem & Mineral exhibition in Pictures
Introduction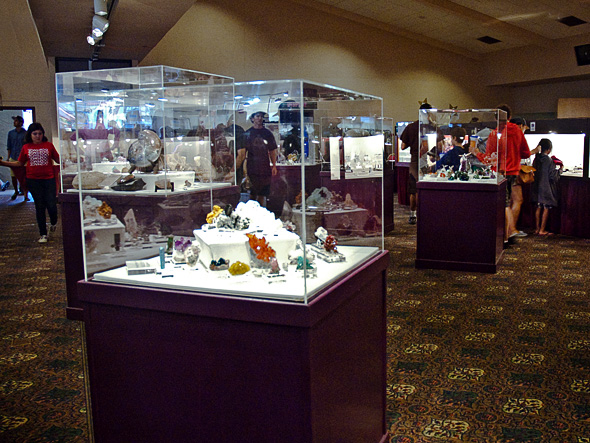 An endless stream of visitors came to see the exhibition.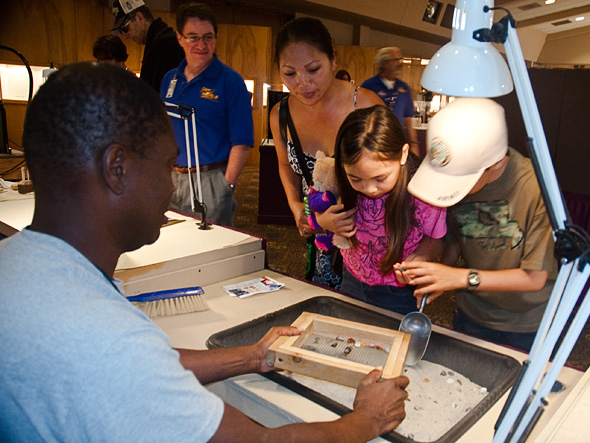 Kids loved screening for gems buried in the sand.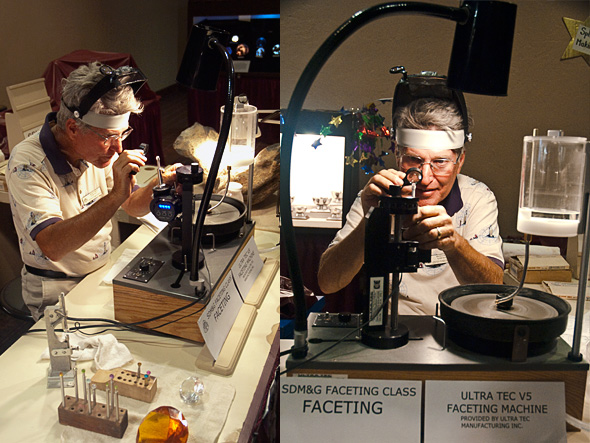 SDMG member Lester Pendergrass demonstrates the Ultra Tec V5 faceting machine. This state-of-the-art electronic device was lent by Joe Rubin, President of Ultra Tec Manufacturing, Inc., Santa Ana, California.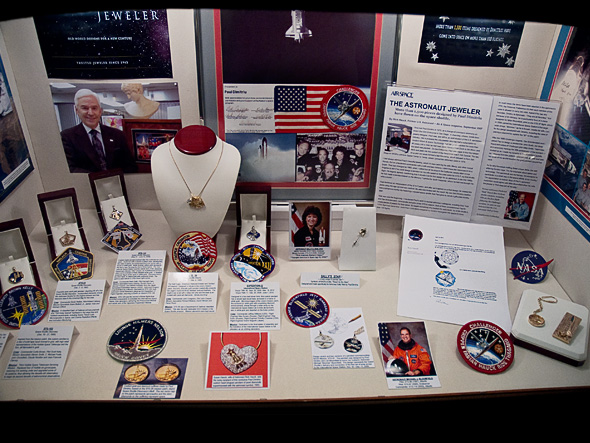 In keeping with the Fair's theme, Elizabeth Cheathem created an exhibit of jewelry and other items fabricated by Paul Dimitriu, "The Astronaut Jeweler," under commission by NASA to commemorate its Apollo and Shuttle missions. The gold money clip went into outer space with astronaut Rick Hauck on a shuttle mission.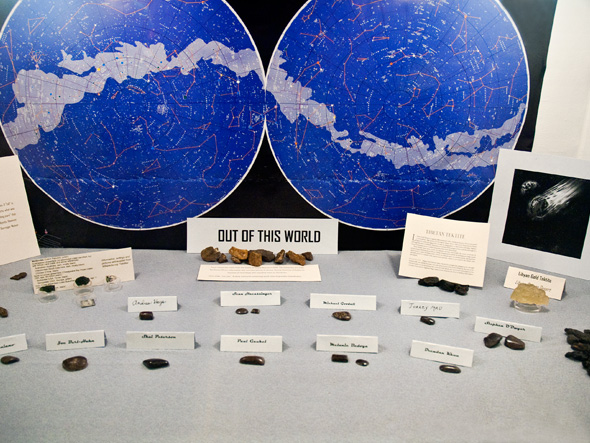 Against the backdrop of star charts showing the constellations in our galaxy, the Milky Way, the SDMG Juniors exhibited their carefully polished meteorite cabochons.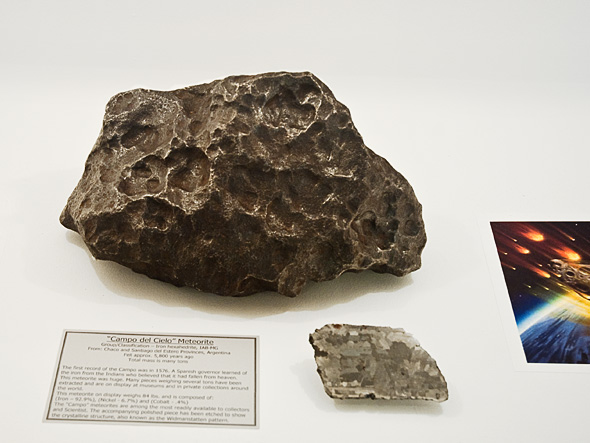 In a special non-competitive exhibit, SDMG President Jim Parrish displayed his 84 lb. Campo del Cielo meteorite, with a matching polished meteorite showing the classic Widmanstatten nickel-iron crystallization pattern.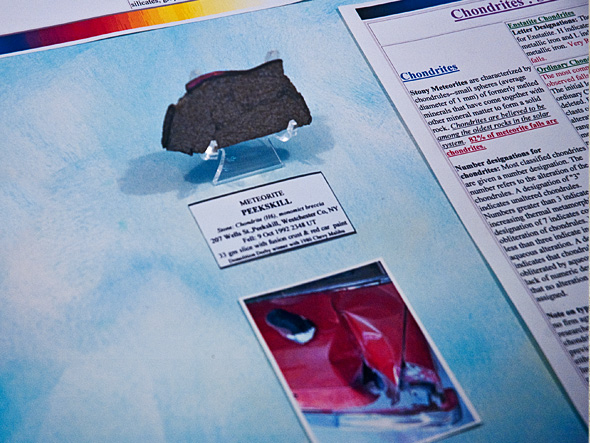 On Oct 9, 1992, a meteorite streaked through the skies and struck a parked car in Peekskill, New York. The police investigation initially reported vandalism of the red Chevy Malibu, but once they noticed the smoking hole in the concrete under the car, they revised their report. This slice of the Peekskill meteorite shows red paint on the top edge.
Minerals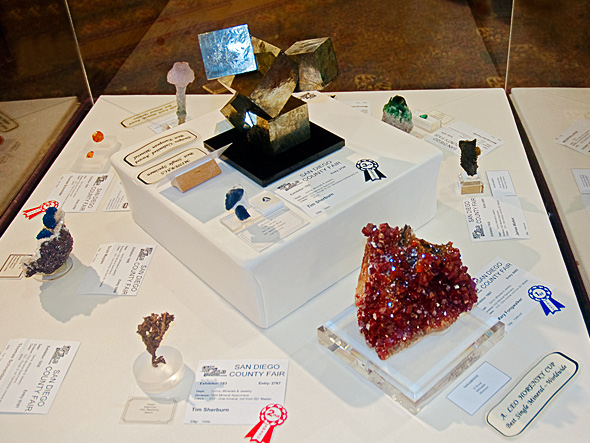 Showcased among some fine-quality mineral specimens were several award-winning pieces. Richard Smith won the Fair's Best Mineral Trophy as well as Design Unlimited's Best European Mineral Award for this multi-tiered pyrite from Spain. Mary Fong-Walker received the Fair's Leo Horensky Memorial Trophy and $100 for Best Mineral Worldwide for the sparkling Vanadinite specimen from Morocco.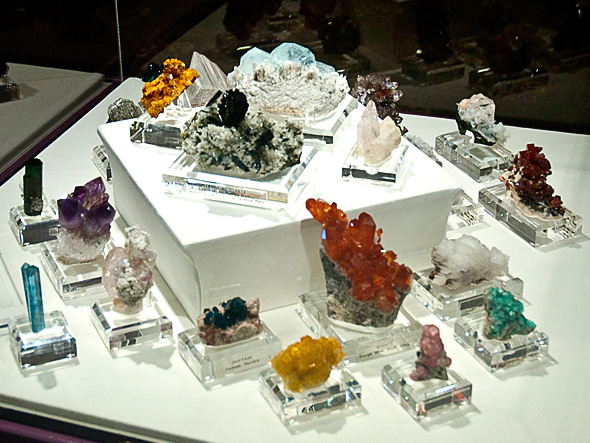 A special non-competitive exhibit from the private collection of the Fair's mineral judge featured an assortment of fine minerals from around the world.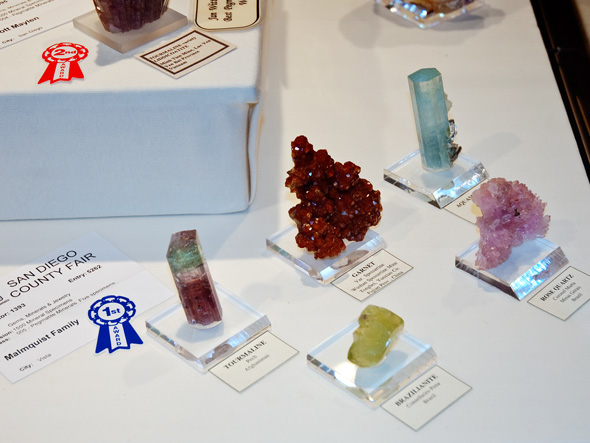 In the Pegmatite Minerals: Five Specimens class, First Place went to the exemplary minerals from the Malmquist Family collection, a stellar group that included an Afghan tourmaline, a spessartine garnet cluster, an aquamarine, a zingy yellow Brazilianite, and a drusy rose quartz flower.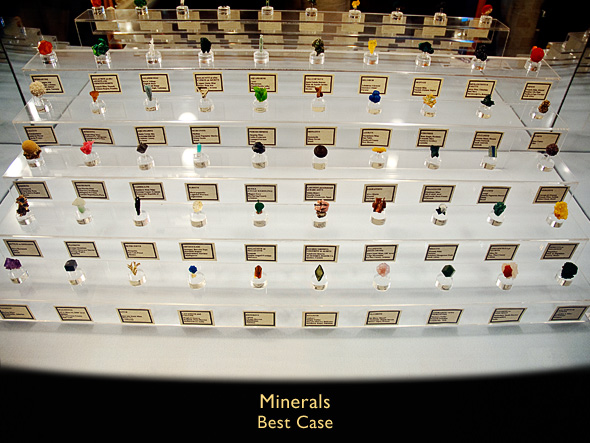 Linda St. Cyr of Sparks, Nevada, used a stepped Plexiglas riser and mirrors to create the illusion of thumbnail minerals floating in space. Her case received the Fair's Best Case of Minerals Trophy.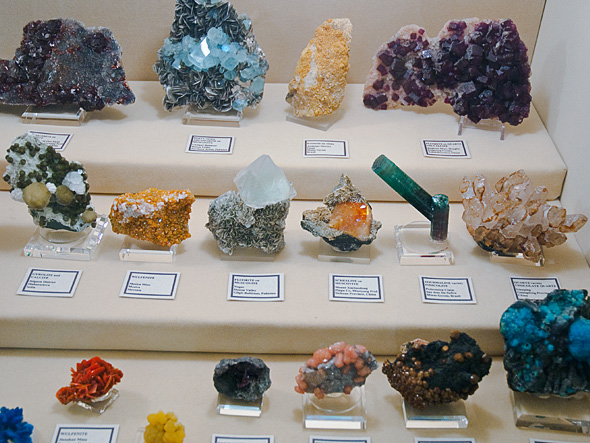 SDMG member Scott Maylen received First Place for his full case of Master's class minerals, as well as the Irv Brown Best Case Award.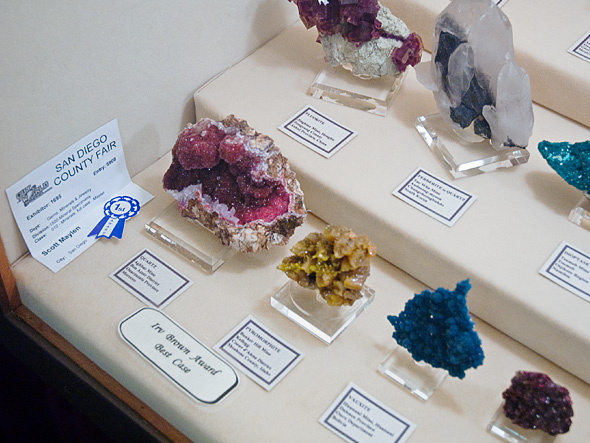 Another view of the Irv Brown Award-winning display created by Scott Maylen. At left, a rare pink Moroccan quartz garnered a First Place Award.
Geodes and Agates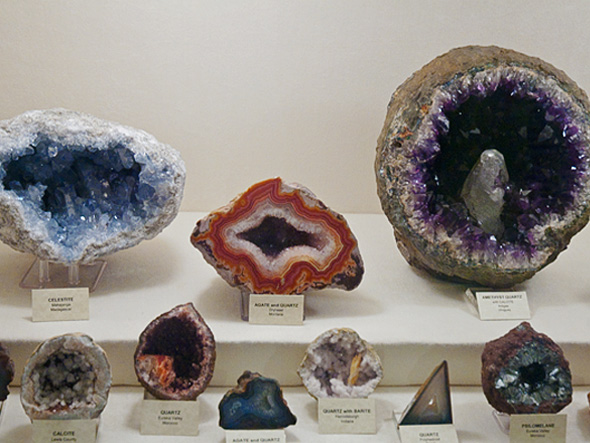 Geodes represented by a range of materials from varieties of crystalline and microcrystalline quartzes to celestine.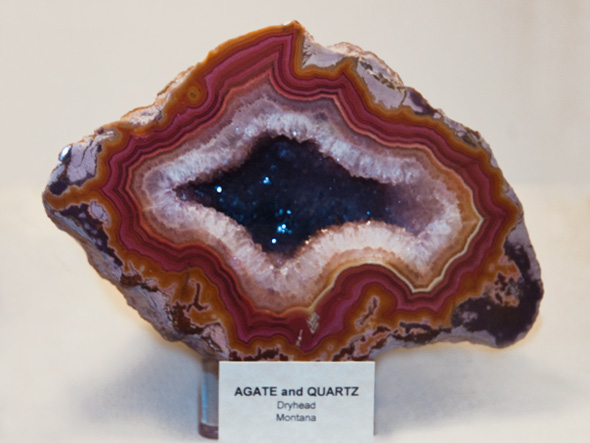 A close-up view of a classic red, orange and crystalline quartz Dryhead geode, mined from public lands in the Bighorn Canyon area of southern Montana.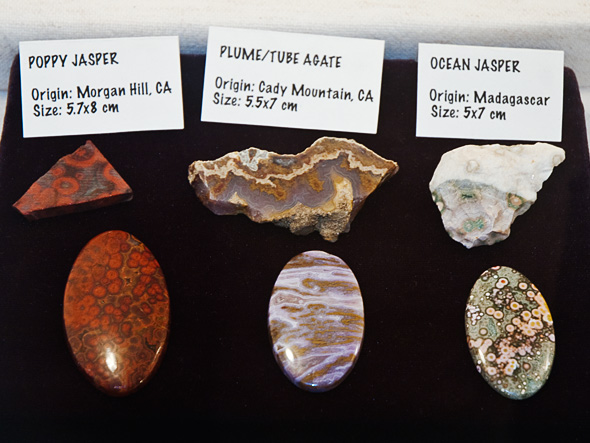 Slabs of jaspers juxtaposed against finished cabochons show off their intriguing colors and patterns to good effect. Exhibited by SDMG member Itziar Parramon in the Three Cabochons Worldwide with Matching Rough class.
Fossils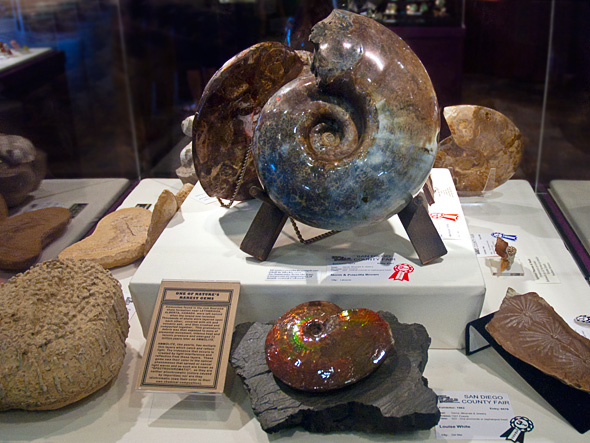 The fossil shell in the foreground is an exceptional example of rare opalized ammonite from Alberta, Canada, entered by Louise White. This Third Place winner exhibits a lovely play of color over its delicate surface. The large fossil ammonite on the central pedestal was entered by Norm and Priscilla Brown; it won Second Place honors. On the lower right is a fossil scouring rush and on the lower left is a fossil coral from Michigan. Both pieces were entered by SDMG member Dolores Wheeler, winning Third Place in Plant Fossil and Second Place in Self-Collected Fossil, respectively.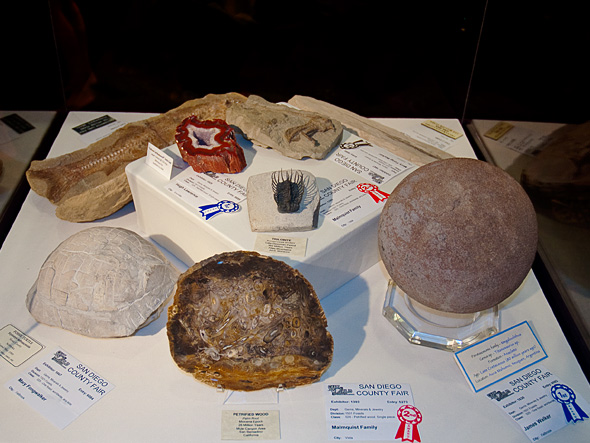 Front, right: A late Cretaceous Titanosaurus egg from Argentina. First place, Single Fossil, Worldwide category; Jim Walker of Fallbrook Gem & Mineral Society, exhibitor. Front, center: 26 million-year-old petrified wood from Mule Canyon, San Bernardino County, California. Second place, Single Piece of Petrified Wood category; Malmquist Family, exhibitors. Front, left: an Oligocene fossil turtle from Sioux County, Nebraska, exhibited by Mary Fong-Walker. Center pedestal, left: Upper Jurassic "Yellow Cat" redwood limb cast from Garfield County, Utah. (Originally owned and polished by SDMG member Ed Reiber.) First Place, Single Piece of Petrified Wood; exhibited by Hugh Lawrence.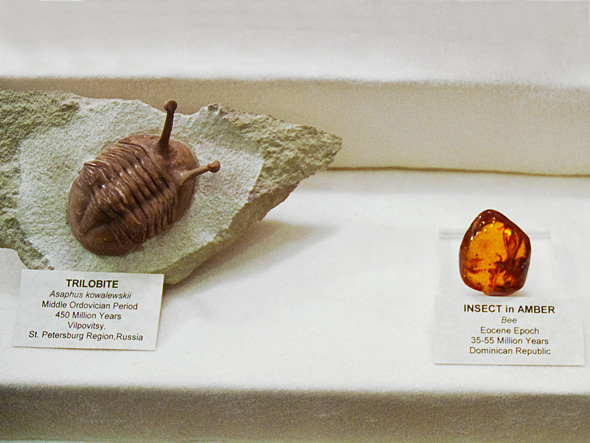 From one of the award-winning display cases, a detail view: at right, a well-preserved trilobite (450 million years) found near St. Petersburg region, Russia, and at left, a bee encased in a large transparent piece of amber (35–55 million years), Dominican Republic.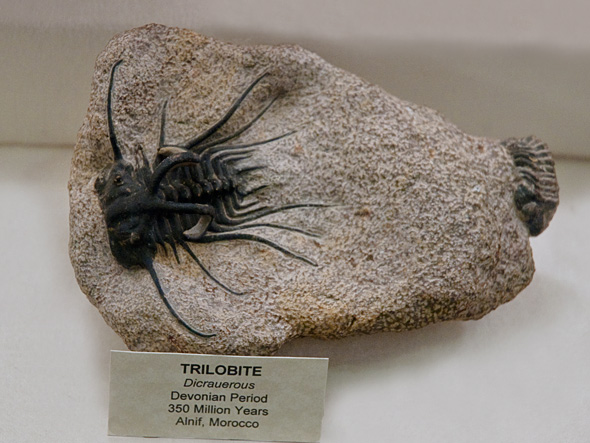 A trilobite creeps along as a another creature slithers around the edge of their perch; Devonian Age (350 million years), from Ainif, Morocco.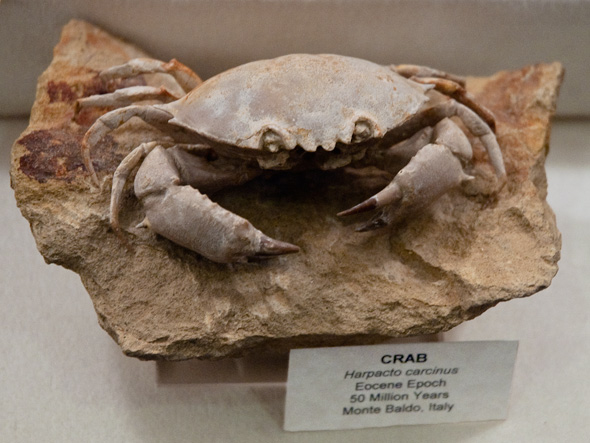 A crab found in Monte Baldo, Italy, has held his pose atop his small promontory since the Eocene Epoch (50 million years).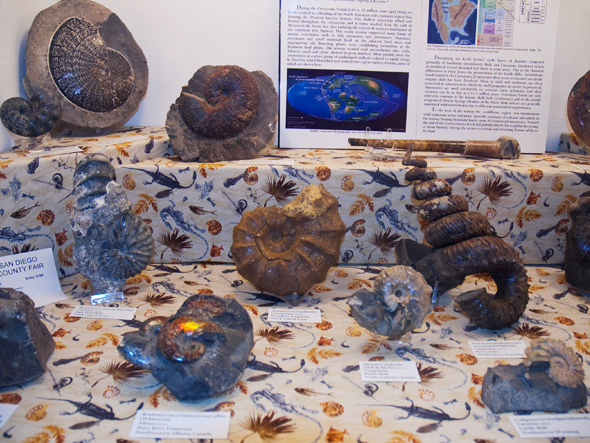 An assortment of Cretaceous Age fossils from the United States and Canada, excavated and cleaned by exhibitors Norm and Priscilla Brown. (Fossil motif cloth discovered in the remnant pile at their local fabric store.)
Lapidary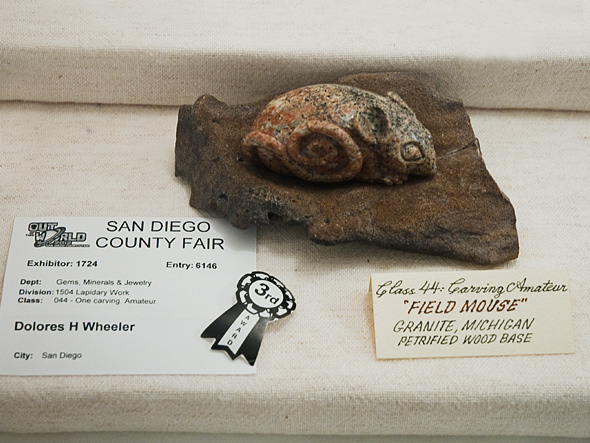 SDMG member Dolores Wheeler won Third Place in the Amateur Carving class for her "Field Mouse."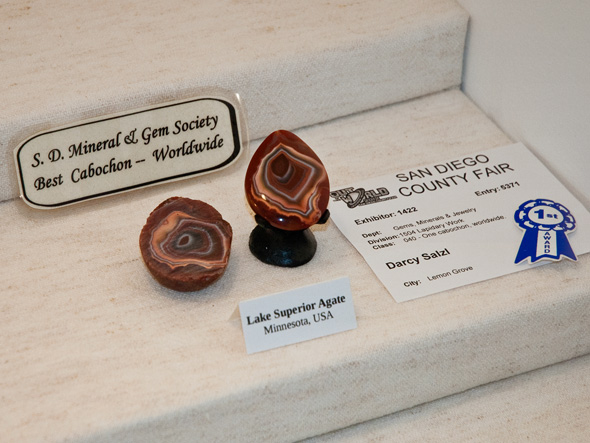 SDMG member Darcy Salzl's cabochon made from Lake Superior Agate garnered First Place in the Fair's Best Cabochon, Worldwide category, as well as the receiving the $50 SDMG Award for Best Cabochon.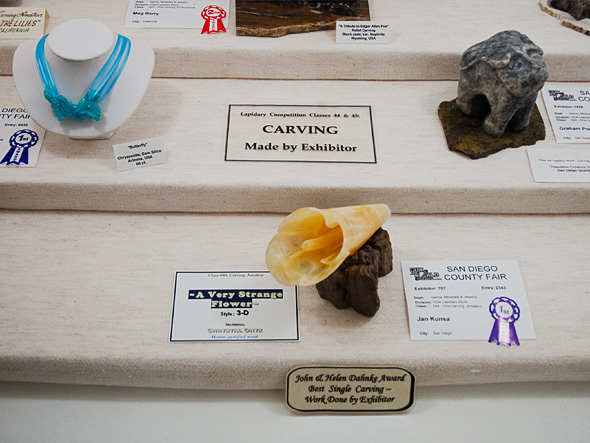 Multiple prize winners are featured in this display case of carvings. Front, center: SDMG member Jan Kunsa's "Very Strange Flower," carved from onyx and mounted on a petrified wood base, garnered First Place in the Amateur Carving class as well as the John & Helen Dahnke Award for Best Single Carving. Back, left: Meg Berry carved a 60 ct. "Butterfly" pendant from chrysocolla, garnering First Place in the Professional Carving class.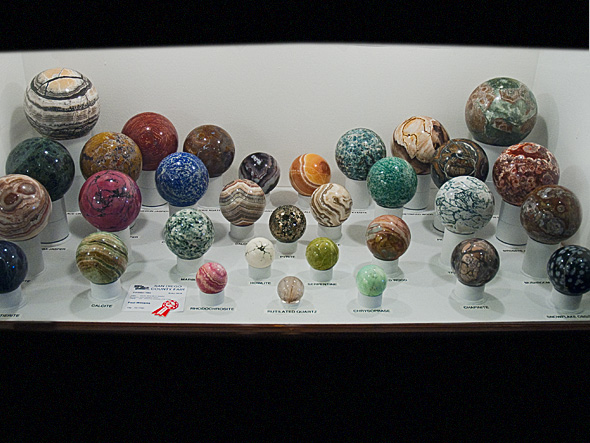 "Paul's Balls," created by SDMG member Paul Williams, are a favorite exhibit every year at the San Diego County Fair. This case received Second Place in the Spheres, Full Case class.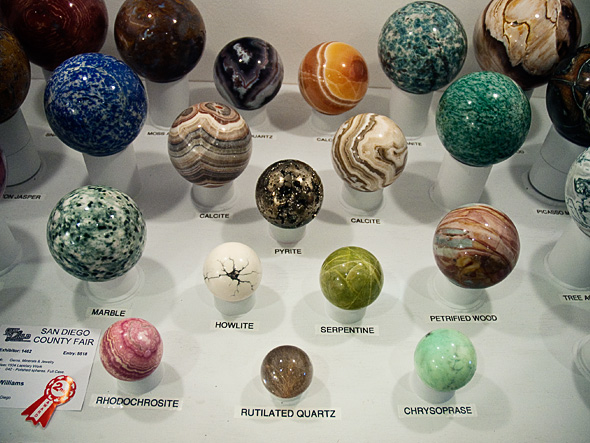 Up close and personal. The howlite sphere appears to be hatching. Paul Williams received a Second Place Award for his case of spheres.
Paul's Glowing Balls titillate and delight. Plus, they won First Place in the Spheres, Full Case class, as well as the Coordinator's Trophy and the Best Single Lapidary Work Trophy. Paul shopped at Home Depot for every diameter of PVC pipe, cut off different lengths and attached them to a base, spray painted the whole thing black, and wired up 3-watt LED lights under each sphere to create the illusion of planets in the night sky.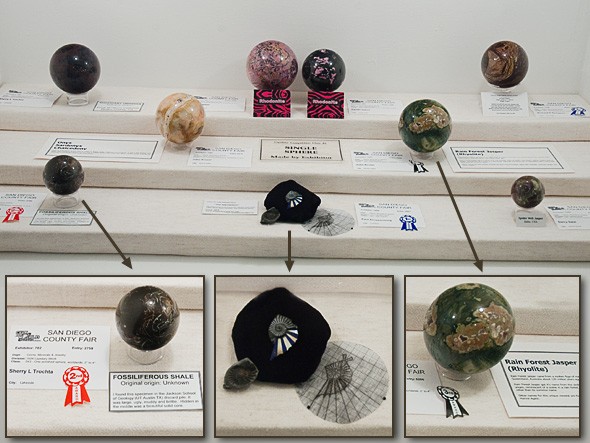 A mixed case of single sphere entries and one intarsia. Left inset: a fossiliferous shale sphere submitted by SDMG member Sherry Trochta takes Second Place. Middle inset: intarsia design using a fossil pyritized ammonite by SDMG member Paul Kloppenborg won First Place. A sphere turned from Rain Forest Jasper (rhyolite) by SDMG member John Kruzel wins Third Place. Back, right corner: SDMG member Dick Sampson's sphere turned from Biggs Jasper received First Place in the Single Sphere category.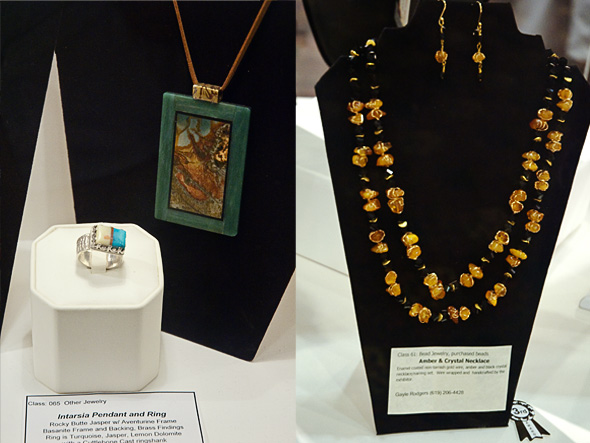 Left: intarsia ring made of turquoise, jasper and lemon dolomite and intarsia pendant of Rocky Butte picture jasper framed in aventurine quartz exhibited by Ron Moore. Right: necklace and matching earrings crafted from amber and crystal beads by Gayle Rodgers won Third Place in the Bead Jewelry: Purchased & Strung class.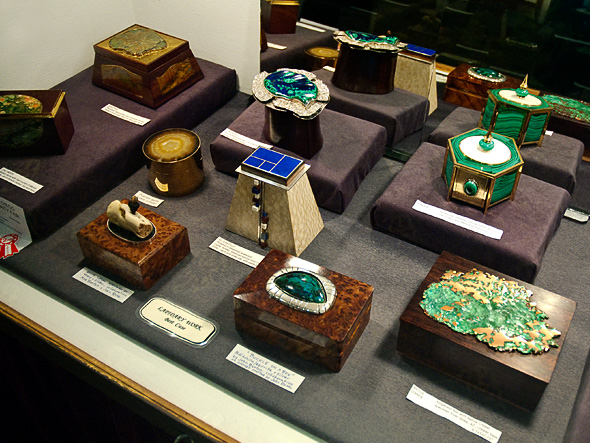 Boxes made by the late John Burton based on concepts by his wife, Mae Burton, were created from precious woods, with metal work, intarsia, minerals and bezel-set cabochons. On display is a representative range of a life's work in lapidary art. Mr. Burton made 85 boxes, sometimes taking as long as two years to realize his wife's vision. This exhibit won the Best Case of Lapidary Work Trophy.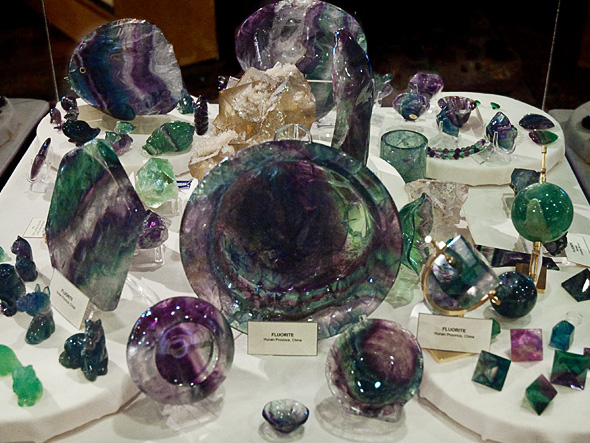 A myriad of carvings in flourite from Hunan, China, show off this gem's attractive parti-colors.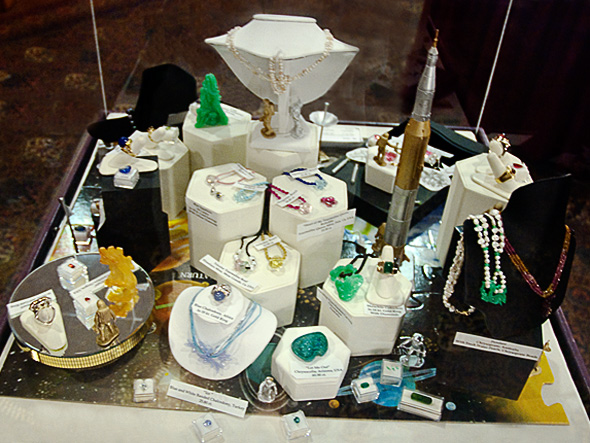 Professional gem carver Meg Berry and master Jewelry Designer Ilka Bahn dazzle with the number and range of carvings and jewelry presented in a single display. Keeping with the "Out of This World" theme of the 2012 fair, whimsical outer space elements are incorporated into the presentation.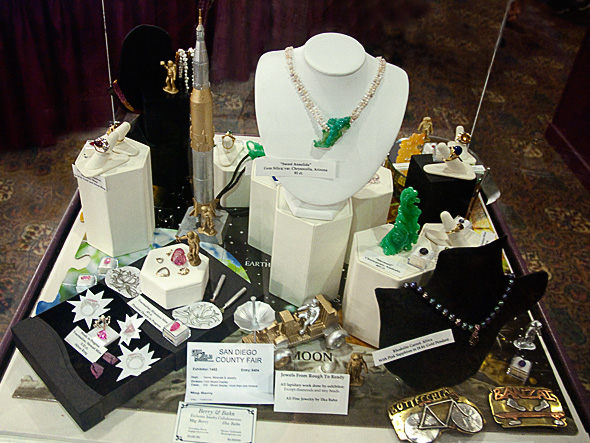 Another view of the display showcasing fine carvings by Meg Berry and jewelry design and metal work by Ilka Bahn.
Educational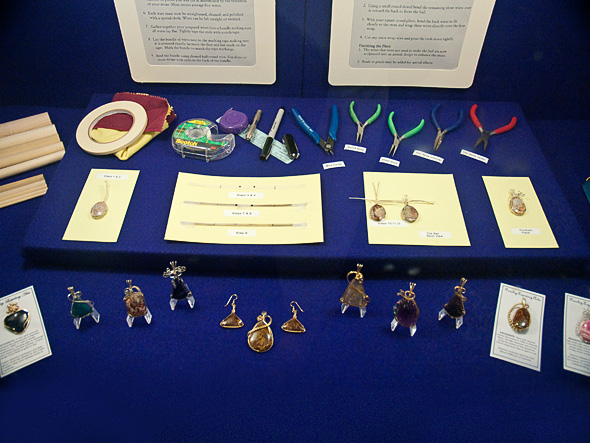 Educational exhibit, how to do wire wrap, by Bonnie Parsley of Fallbrook Gem & Mineral Society.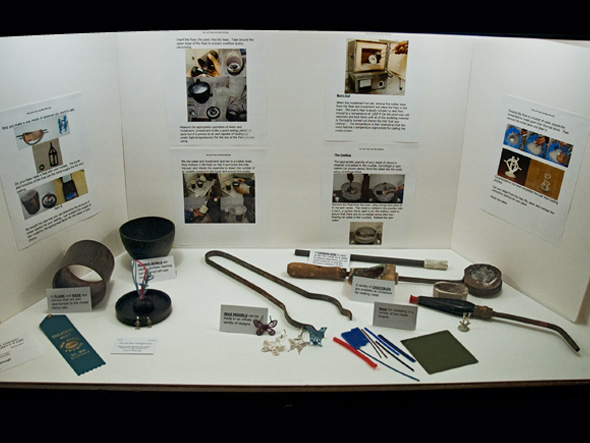 How to do lost wax casting, by SDMG member and casting instructor Rich Yarbrough.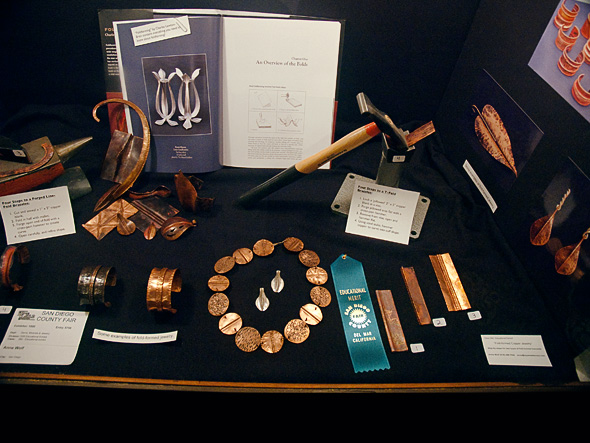 Three simple fold-forming techniques explained by metalsmith Anne Wolf.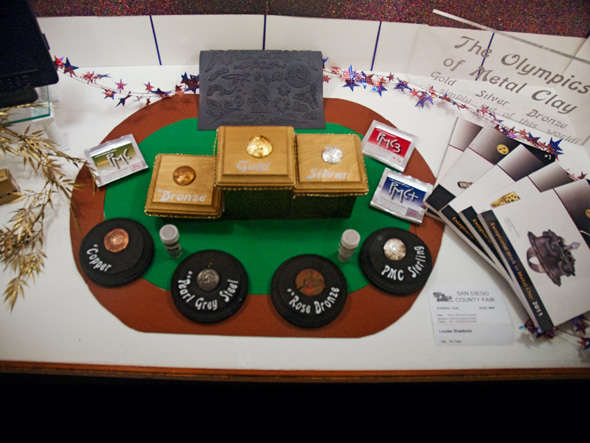 PMC Guild presentation of metal clay basics.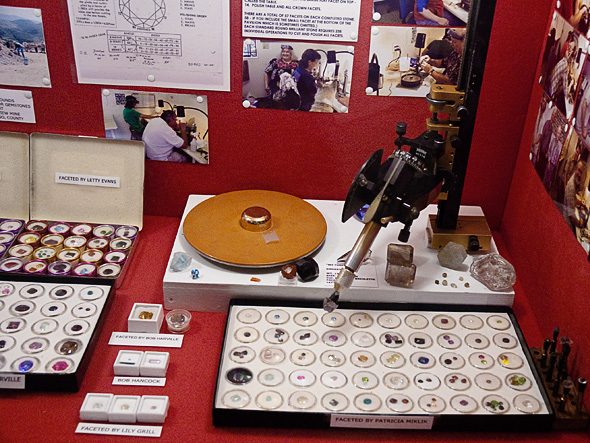 SDMG faceting classes display their abilities.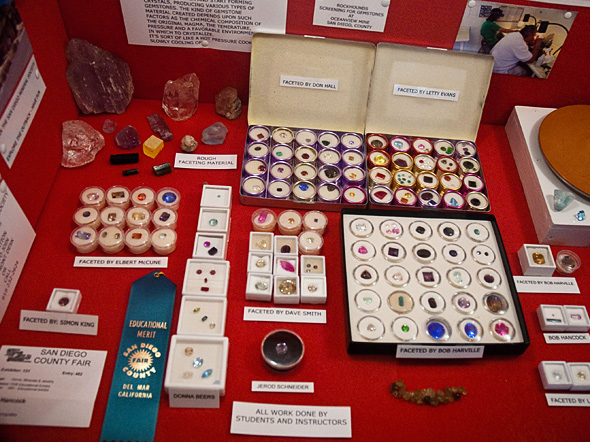 Second view of SDMG faceting classes' exhibit.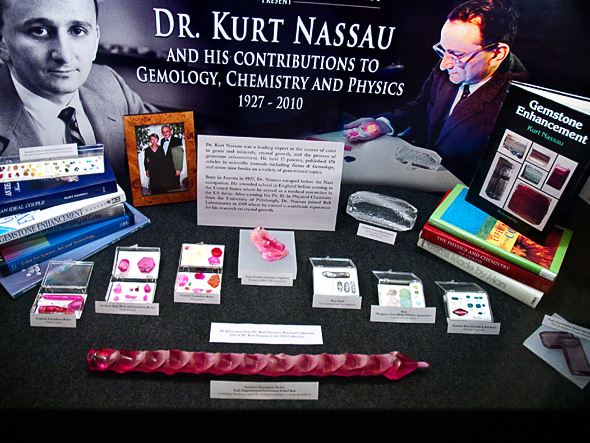 A special non-competitive exhibit presented by the GIA Library staff, honoring the lifetime achievement of Dr. Kurt Nassau. The pinched corundum boule in the foreground is highly fluorescent under long-wave ultraviolet light: think hot orange!
Faceted Gems and Jewelry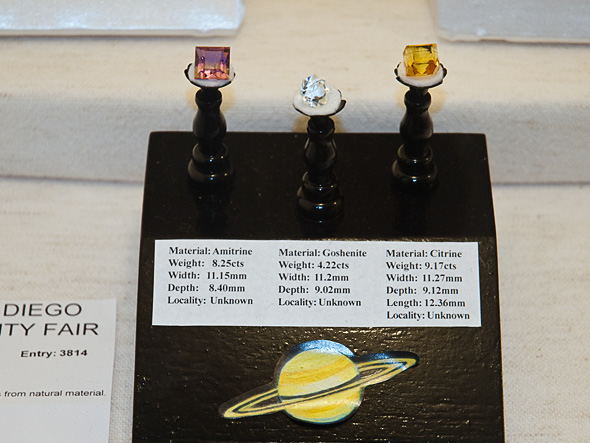 From left to right: a square-cut ametrine, a round brilliant goshenite and a faceted cube cut in citrine. Exhibitor: Deb Andrew.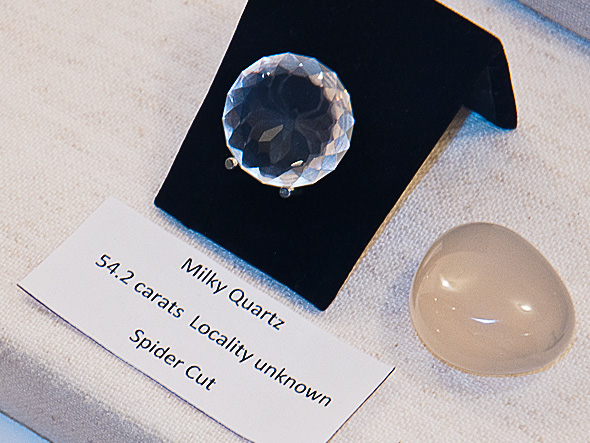 A milky quartz in a thin coin cut, with frosted facets on the pavilion forming the shape of a spider. Faceted by SDMG member Ellen Riceman.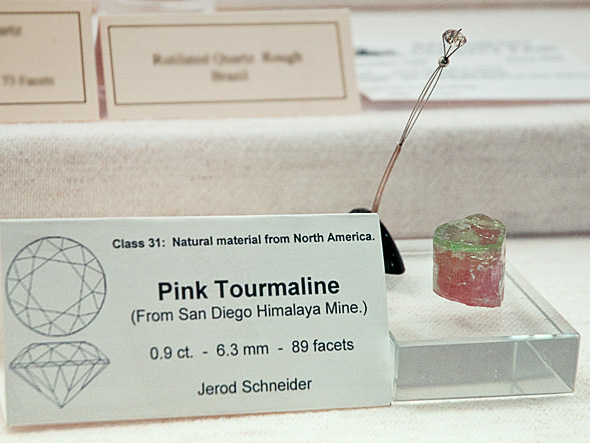 SDMG faceting instructor Jerod Schneider received First Place honors in the One Faceted Gemstone from North America class for his rough and cut pink tourmaline.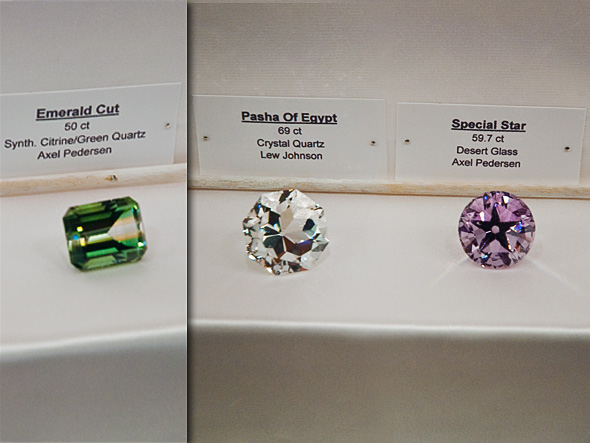 A close-up view of some of the exquisite faceted gems showcased in the Meetpointers' educational display. Here, an emerald-cut synthetic green quartz and round desert glass with a flower-cut pavilion, both made by Axel Pedersen, flank the "Pasha of Egypt," a rock crystal quartz made by Lew Johnson.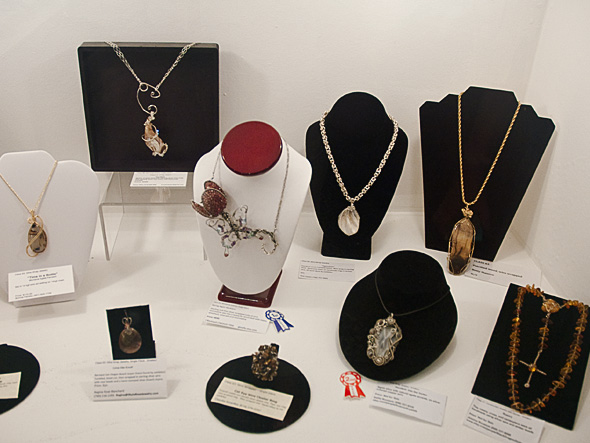 The creative range and variety of expression possible in wire-worked jewelry is on display.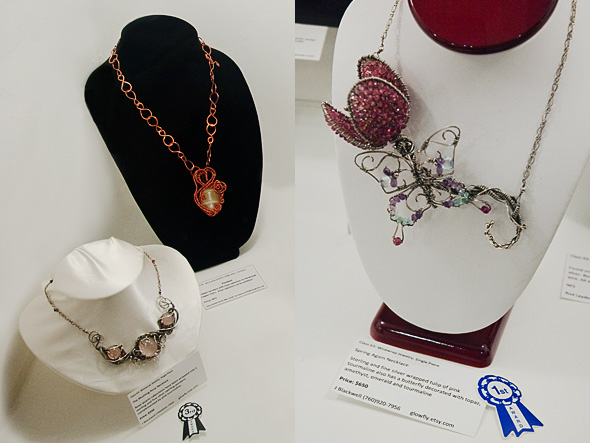 Details of Wire Wrap Jewelry category. Left, back: Copper wire-wrapped onyx cabochon produced by SDMG member Dee Smith. Left, bottom: A silver sterling "Blushing Rose" necklace composed of rose quartz cabochons complemented by pink tourmalines. Made by Jennifer Blackwell, this necklace received a Third Place Award. Right: A sterling and silver wire-wrapped necklace with a tulip centerpiece composed of pink tourmalines; below a butterfly adorned with topaz, emerald, amethyst and pink tourmaline. This piece, also by Jennifer Blackwell, took the First Place Award in its class.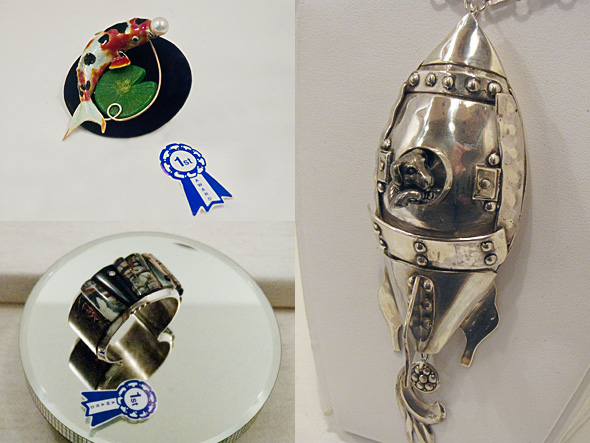 Entries in three classes. Top, left: Louise Shadonix won First Place in Handmade Bead Jewelry, as well as the Courtenay McGowen Award for Creativity, for her cloisonné "Koi" with a pearl in its mouth. Bottom, left: bracelet inlaid with Picasso marble and featuring Pablo Picasso images on the outer and inner metal surfaces; piece created by Jeff Fulkerson. Right: in the themed jewelry class, "Cindy Goes to the Moon" pendant; sterling silver, hammered, folded and formed, by Deb Morgan.
Two First Place Award winners. Left: Louise Shadonix won for her creation of "Sea Reformed," produced by electro-forming copper over a purple sea urchin, electro-forming copper beads fashioned by hand, with amethyst, tanzanite, carnelian and freshwater Keshi pearls. Right: SDMG silver fabrication instructor Denny Turner won First Place honors in Southwest Jewelry for his set of "His and Hers" mokume-gane bracelets (not shown) and matching pendant (shown here).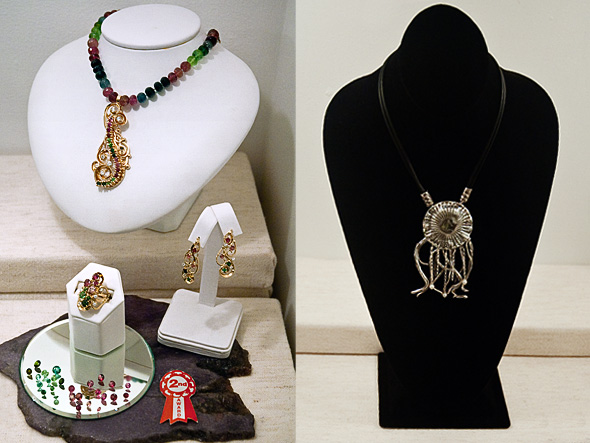 Left: Stephen Koonce of Stephen's Custom Jewelry in Escondido won Second Place in the Constructed Jewelry with Stones, Professional category for the necklace "Enhancer," ear rings and ring set with tourmalines and diamonds. Sheila Schwede won First Place in the Metal Clay Jewelry class for her "Jellyfish" silver pendant adorned with freshwater pearls.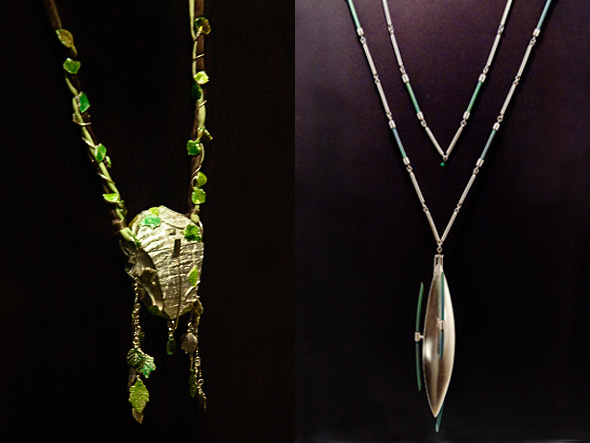 Left: Louise Shadonix created a silver metal clay pendant adorned with gems and enamel, winning Second Place in the Exhibitor's Best Piece, Professional class. Right: Anne Wolf created this "Zero Gravity Neckpod" 20 years ago in her graduate metalsmithing class, and just buffed it up a little to enter it in the Fair this year. She received the First Place Award for Fair Theme Jewelry: Outer Space.
Left: The Fair's Best Single Piece of Jewelry Trophy went to Stephen Koonce of Stephen's Custom Jewelry for his all-metal tri-color gold neckpiece with front closure. (Wife Lisa stopped him from adding gemstones to his gold flourishes, which she thought would be gilding the lily!) Right: SDMG member Katie-Jane Wilson received Third Place in the Constructed Jewelry with Stones, Amateur class for her two-layer pierced work backed by textured silver, hung with iridescent gray pearls.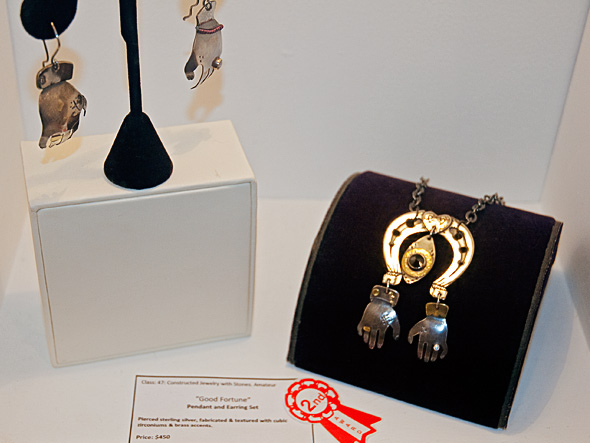 Katie-Jane also received Second Place in the same class for "Good Fortune," a pendant and ear ring set produced in pierced silver, set with cubic zirconium stones and accented with brass.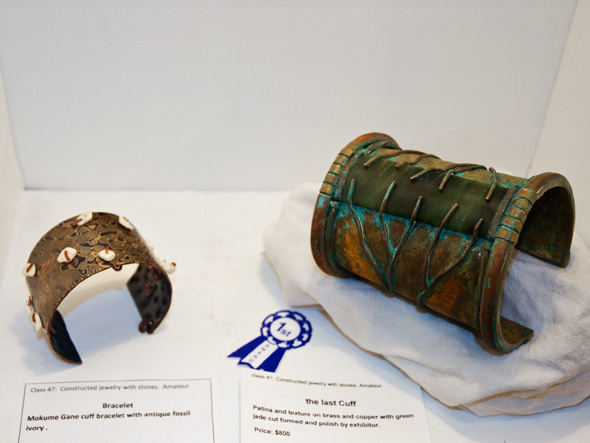 Two entries from the class Constructed Jewelry with Stones, Amateur. Left: SDMG member Dee Smith produced a mokume-gane cuff bracelet adorned with antique fossil ivory. Right: Javier Ramirez received a First Place Award for a patinated copper cuff inlaid with jade.
Themed Displays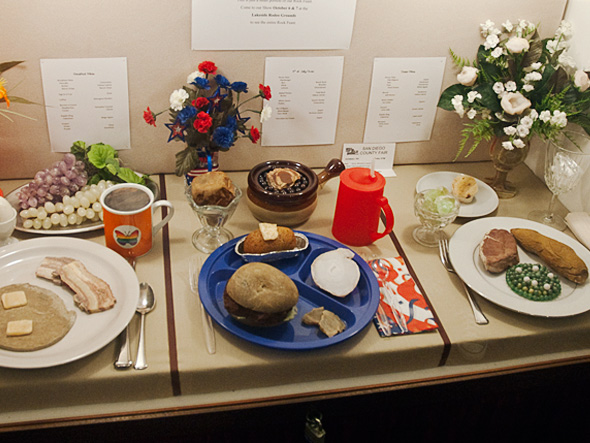 A portion of "The Rock Feast," presented by the El Cajon Valley Gem & Mineral Society. A full day's menu: breakfast of pancake, butter, bacon, coffee, soft-boiled egg and grapes; lunch of hamburger, potato and butter, onion, pickle slices, baked beans with bacon, and dessert; and supper of pork chop, sweet potato, peas and pearl onions, and green jello. Bon appetit, rockhounds!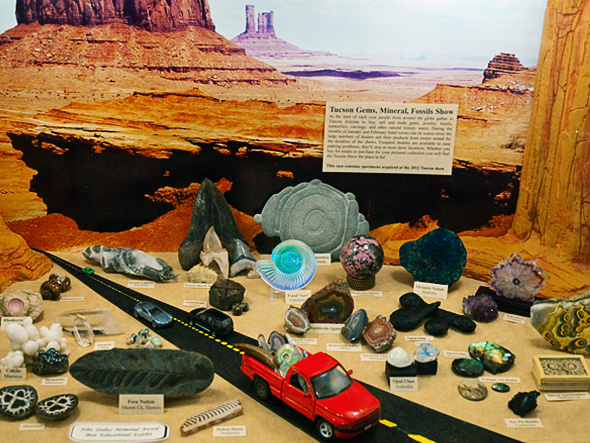 "Tucson Road Trip" diorama, an educational exhibit showing the wide variety of materials that the exhibitor purchased in February 2012 at the Tucson Gem & Mineral shows. Includes opalized clams from Australia, geodes from Morocco, ammonites from Madagascar, agates from northern Mexico, shark teeth, rhodochrosite and much more.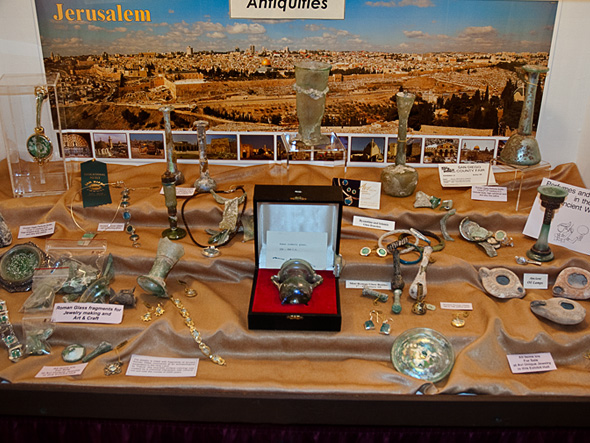 Two thousand year old glass and other Roman artifacts. Glass-making technology was developed in the Graeco-Roman world; however, glass-blowing was first developed in the Eastern Mediterranean and spread throughout the Roman Empire in the 1st century BC. Here, perfume bottles, beakers and fragments have been made into 21st century jewelry. Exhibited by Avi Odeni of Israel.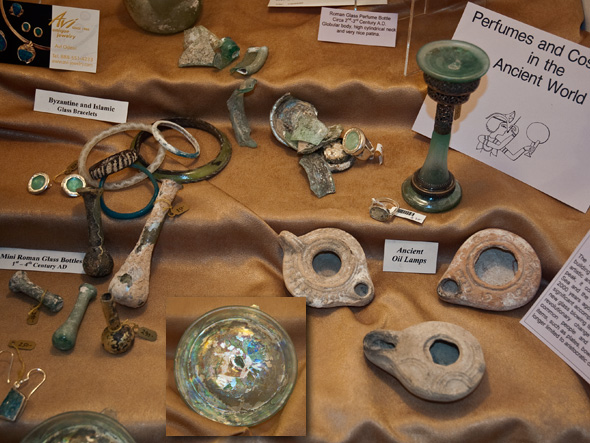 Close-up detail of opalescence on Roman glass. Due to the inherently unstable composition of ancient glasses, in an adverse burial environment over the span of millennia, chemical leaching of natron from the glass may cause the surface to opacify or delaminate into thin layers (also called "weeping glass"). Sometimes, opalescent alteration layers are an attractive by-product of the deterioration of ancient glass.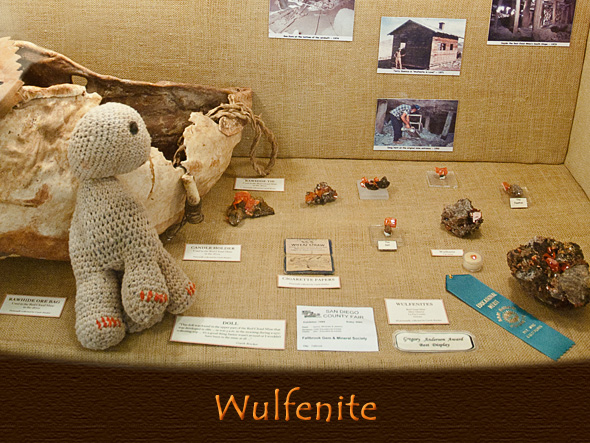 Garth Bricker of the Fallbrook Gem & Mineral Society presented a humorous double entendre in his display on the mineral wulfenite (woof woof, we love it). This exhibit received the Gregory Anderson Best Exhibit Award. Garth collected wulfenite at the Red Cloud Mine near La Paz, Arizona, over a period of 30 years.