GEM DIEGO SHOW 2014

By Bob Hancock

Gem Diego Show Chairman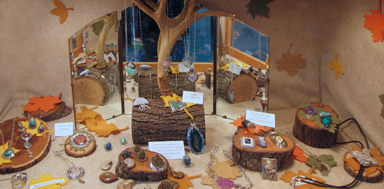 Jaguar Trophy recipient Jill Williamson's award-winning display case of handmade jewelry and cabochons.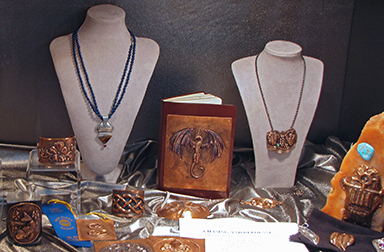 SDMG class exhibit shows off members' chasing and repoussé work.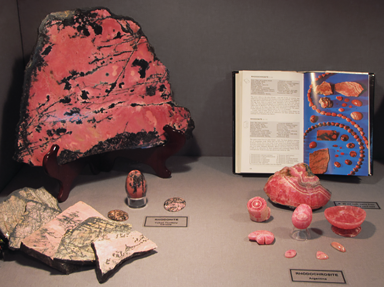 Pretty in pink – Anne Schafer's exhibit of rhodochrosite and rhodonite.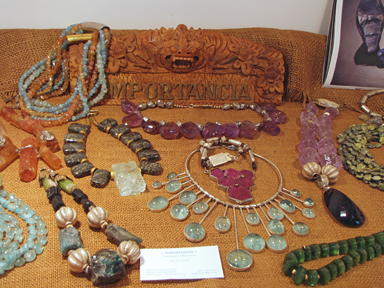 Importancia jewelry designs by Jane Coursin.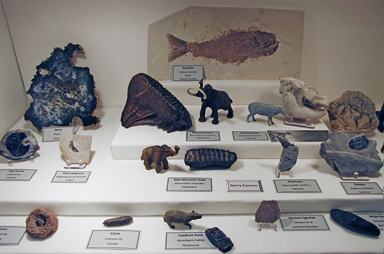 Garry Cannon's fossil exhibit features a range of impressive specimens alongside models of the extinct mammals they represent.
SDMG had another great year hosting San Diego's biggest and best gem-mineral show. There were beautiful exhibits, full demonstrator tables, increased attendance both days and happy Dealers who set sales records for our show on Saturday alone. I want to express my thanks to all who participated in putting on the 2014 Gem Diego Show, including our Lifters, and Loaders, Movers and Packers, Electricians and Wire Pullers, and everyone who volunteered their time and effort to make the show a huge success.
Our thanks go out to Anne Schafer and "The Table Skirters" and all the other Workers who helped make the halls ready for the show. Thanks to our Truck Driver Wayne Moorhead for bringing it all in and then getting it all out. Thanks to the Gem and Mineral Dealers who return year after year to dazzle us with their new stock of exotic merchandise.
Thanks to our Security Team who walked the beat during the two days of the show.
I want to thank our Advertising Executive Rich Yarborough for his great job in spreading the word about Gem Diego. Thanks to Mike Harlow, our Sign Manufacturer, for the building and strategically placing our street advertising signs, and also for remaining on duty to assist at the selling booth and on the floors during the show.
Thanks to Dee Smith, Jennifer Stapp, and others who crewed our Club Booth. Our Door Prize Committee, Gladys Walker and Simon King did an excellent job with ticket sales and also in making timely announcements via the PA System. Simon and Food Handlers The Sons of the Desert provided us with hot snacks and cold beverages. Well Done.
Junior Counselors Lois Lukasky and Marvin Dillard led their volunteer crew of Juniors and Parents to staff their own booth and display an exhibit of their work – they were a highlight of the show. They provided many younger members and adults alike with a fine selection of quality, affordable minerals, rocks and fossils. They also provided information on how to become a Junior Member of the SDMG Society.
Special thanks to Angela Cannon and Irv Brown, who set up a new educational demonstration exhibit, which was designed especially for Junior members.
Cathy Davis and our sister organization, the Gemological Society of San Diego, provided the general public with free comprehensive gemstone testing. It was a great learning opportunity, too – they explained the details and procedures of gemological techniques and identification. Thank you to GSSD.
Over the many years that the Society has held this show, we have barely made a profit. After totaling up the man- (and woman-) hours contributed by our volunteers and paying all the expenses, we would be bankrupt if we were a profit-oriented business. One might ask why do we keep on doing it year after year with so little monetary gain? One answer might be, "We do it Because we can." Or, we do it to reveal our talents to the world. Our Exhibitors, who bring in their handiwork each year to display before the public, give us a prime reason for holding the show. Exhibits Chairperson Ellen Riceman is truly thanked for her unwavering devotion to making it all happen.
Our Demonstrators, who come in, set up their equipment and give the public a hands-on operational performance of how silver is worked, how cabochons are made, how gemstones are faceted, how spheres are made or how beads are strung, are providing many visitors with an opportunity to experience something first-hand that they would not otherwise see.
Fourteen Gem and Mineral Dealers offered gems, minerals, jewelry, lapidary equipment and supplies for sale.
The Rock Farm

– rock carvings, minerals, more

Merk's Jade

– jade, great slabs, cabs, gems

John E. Garsow Gems & Minerals

– minerals, fossils, facet rough

Prentiss and Dorothy Campbell

– faceting materials

Freys and Eredias

– rock geeks and big dog opals

Joan's Collection

Vance Gems

– gems & fine jewelry

Cinderhill

– Kurt and Cindy's hand-drilled gemstone jewelry

Blakeman Minerals

– minerals & gifts

Dragon Minerals

– minerals & lapidary

Majesta M A-Z Jewelry Supply

Gem Guru

– lapidary, gifts, more

Earth's Treasures

– fine minerals, gems

Kluey's Gems

Rock Geeks

– John Frey
Thank You All.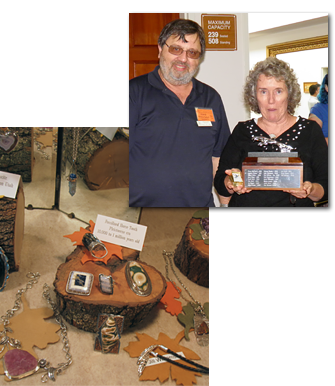 The Jaguar Trophy
This award is presented by the Society President to the SDMG member who enters the most beautiful case of their own work in the club's Annual Show. The winner for 2014 was Jill Williamson, who is shown here being awarded the Jaguar Trophy by SDMG President Paul Williams for her display case filled with original jewelry featuring handmade jewelry and cabochons.
Congratulations to Jill, who joins the pantheon of SDMG members whose work has been recognized with this special award.
The Jaguar Trophy was conceived by Ron Willis, our English member, after he visited our show in 1987. He made the trophy for us using English walnut and marble.