DECEMBER NIGHTS (CHRISTMAS ON THE PRADO) & CHRISTMAS POTLUCK – 2016

BALBOA PARK
Friday, December 2, 4:00–11:00pm
Saturday, December 3, noon – 11:00pm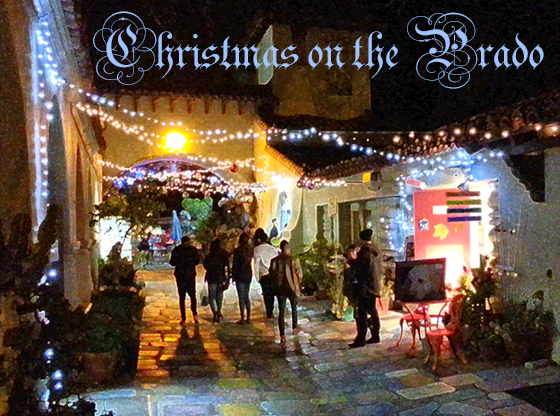 This annual holiday celebration is the largest free community festival in San Diego. Participating museums open their doors free of charge between 5:00 and 9:00pm. Activities include live musical and dance performances, the annual Santa Lucia Procession at the Plaza de California, gift shopping at the museum stores and artisan studios of Spanish Village, foods from around the world under the banner of the International Christmas Festival at the House of Pacific Relations Cottages. SDMG will be open to the public for people to walk in and have a look around. For the members who volunteer, it's an opportunity for free class time, and we have our own potluck dinner and snack area where we share goodies among the volunteers. SDMG has exhibit cases, demonstrations, plus it's a great time to educate visitors about rocks and introduce new enthusiasts to the Society.
It's the most wonderful time of the year! Get in the holiday spirit – visit Balboa Park and all its festivities, and be sure to take part in YOUR club's annual Open House:
Be a Tour Guide
show the public our museum and classrooms
Work in the Selling Booth
give people the opportunity to buy a wonderful treasure
Work in the Classrooms (for free)
show what beautiful things we can make
Want to join in the fun?
The rules are very simple:
Sign up! Print your name on the clipboards in the classrooms.
Come EARLY. Official start time is 4:00pm, but plan on traffic, so try to come by 3:00pm on Friday, or noon on Saturday.)
Park in the ZOO Parking Lot. (Remember your animal.)
Bring goodies: cookies, chili, veggies & dip, deviled eggs, pie…
Share your enthusiasm for the hobby.
If you can work in the selling booth, contact us ASAP at info@sdmg.org.
As always, refreshments will be laid out in the SDMG Library for participants. The Society will provide paper plates, cups, plastic cutlery, napkins, punch, coffee, tea and hot chocolate – members are asked to supply the rest!
There is room for everyone:
– rock carvers – bead stringers –
– cab makers – silversmiths –
– faceters – chain makers –
– collectors, with their favorite rocks –
– sphere makers –
The general public is fascinated by everything we do, and (almost) everyone loves rocks and has a great story to share about their granddad or mom or son who did something amazing: mined for gold in Alaska, collected rocks from the ocean bottom or discovered a new fossil species. Come be surprised, delighted and enjoy life!

BALBOA PARK
Rocio Bergum, Chairperson
Monday, December 19, 4:00–10:00pm
Casa del Prado, Rm 101
Who:
Everyone is welcome! Members, guests, kids, grandparents, second cousins, etc.
Where:
Room 101 in Casa del Prado (just across the street from the west entrance to the San Diego Natural History Museum). Look for all the rockhounds milling about.
What:
Food! Plus a Silent Auction, Door Prizes, and the Christmas Ornament Contest.
Bring:
A hearty dish to serve at least eight people. (Boy, do we have good cooks!) Something nice for a door prize, if you wish, to add to the ones the Society furnishes.
SDMG provides:
Ham, turkey, plates, plastic cutlery, napkins, cups, punch, coffee, hot water for tea, and a pie or two.


Decorating starts at 4:00 pm:

We do our own! Please come early to help deck the halls.


Dinner is served at 6:00 pm:

Remember, traffic and parking can be hectic, so plan to leave a little early and try to arrive by 5:30 pm. That way, we will be able to get the serving line set up and going promptly at 6:00pm this year. (No oven available.)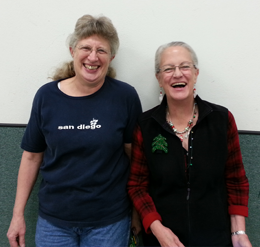 Let's all plan on having a great celebration.
The Christmas Potluck is SDMG's last event of the year. It gives us the chance to see friends we may not see otherwise during the holiday season. It's a chance to visit and reflect on the year past (boy, did it go by fast, or what?). We can muse about the year ahead and all the things we're going to do, places we're going to go. Oh, and it's a chance to enjoy a great feast prepared by our very own members. Come celebrate the season!
CHRISTMAS ORNAMENT CONTEST
Lois Lukasky, Chairperson
Every year since 1995 it has been tradition at the Christmas Potluck to deck our five-foot tall Yule tree made of felt with home-made ornaments made by our members. This is a ROCK Christmas Ornament Contest, so submit an entry that features elements that reflect what our Society is all about: beading, silver work, cabochons, chunks of fossil, fanciful desert roses, wire wrap, faceting, minerals, and, well, you get the idea. Go crazy—add some glitter, paint, wings, halos, gingerbread, and all the rest. Winner will be showered with prizes: First Place, $10; Second Place, $5; Third Place, $1. Now is the time for you to decide what you want to show this year, and hope it sweeps First Place.