SAN DIEGO COUNTY FAIR: Game On is Game Over!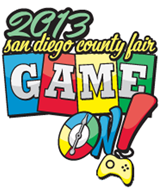 The San Diego County Fair ended its six-week run at the Fairgrounds in Del Mar on July 4th. Triple-digit summer temperatures may have bumped the attendance, resulting in an astonishing turn-out of 1.425 million visitors to the balmy seaside venue this year, making it the second most well-attended Fair in the event's history. Some first-rate collections of gems and minerals were on view, and as usual, the displays were impressive. The jewelry designs demonstrated the wide-ranging skills of participating artists–amateur to professional–delighting both judges and spectators with their playful and humorous interpretations of this year's "Game On!" theme. The mineral of the year was Copper and some specatacular native copper specimens were on display. Truly spectacular copper carbonate minerals were on view, including some impressive malachite and azurite specimens in their myriad forms. The 2013 fossil theme this year was Early Fossils (Paleozoic and Precambrian, 251 million years old or more).
Among the exhibits for 2013 was a fluorescent mineral room where the specimens "lit up" under the glow of black lights. Daily demonstrations included chain-making and gem faceting. As in past years, Lester Pendergrass made faceting gems look easy peasy (of course, we know different). Free gemstone identification was provided by the Gemological Society of San Diego. Knowledgeable and enthusiastic staff were omni-present to explain the displays to visitors, pointing out all the details that made a mineral specimen or collection so exceptional or a carved gem or jewelry creation so wonderful. Anne Schafer, Wayne Moorhead and Doug Peeler, were among the veteran volunteers who provided daily docent tours of the exhibits. They manned the demonstration stations so that kids who thronged around the treasure hunt sandbox could sift for buried gems and minerals.
The work of 13 Juniors—lapidary and metalwork—had its own exhibit case at the Fair. In keeping with the "Game On" theme, work in progress with stones mounted on dop sticks was displayed, and finished cabochons were arranged on a checkerboard—"Game Over!" The display case earned a green ribbon and a $50.00 award for educational exhibit.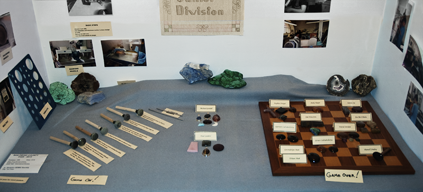 There were 288 competitive entries this year. Congratulations to all the folks who won prizes! San Diego Mineral and Gem Society did really well in fossils, gemstones, cabs, minerals and jewelry. Full results of 1st – 2nd – 3rd place winners by last name can be found in the hyperlinked PDFs listed below.
Some highlights at the Gems, Jewelry & Minerals Dept.
(Hover over image to pause slide show; hover out to continue)