GEM DIEGO SHOW

By Bob Hancock

Gem Diego Show Chairman
The Gem Diego Show is SDMG's big event of the year where all members have an opportunity to participate, and show their talents and handiwork. We had a record turnout this year! I want to express my thanks to all who participated in putting on the 2013 Gem Diego Show. I sincerely thank all of our Lifters and Loaders, Movers and Packers, Electricians and Wire Pullers, and all the contributors who volunteered their time and efforts in making the show a huge success.
Our thanks go to Anne Schafer, Donna Beers, Elbert McCune and their hoards of Table Skirters and other Workers who helped to make the halls ready for the show. Thanks to our Truck Driver Wayne Moorhead. Thanks to the Gem and Mineral Dealers who return year after year to dazzle us with their new stock of exotic merchandise, and for their knowledge and experience, through which they help to educate us about rocks and minerals and treat us to their stories and tales of their travels and experiences on the road. (See below a complete listing of the Dealers who participated this year.) Our Dealer Chairperson, Mary Jane Dunn, is to be commended for her job of keeping track of the dealers and following up on schedules, and ensuring that we keep the most experienced and competent dealers returning to our shows.
I want to thank our Advertising Executive, Rich Yarborough, for his great job in spreading the word about Gem Diego, getting our advertisements placed in the appropriate places for best results and for his follow-up on keeping the public informed about our show. Thanks to Mike Harlow, our Sign Manufacturer for the building and strategic placement of our street sign advertisements, and for remaining on duty at the selling booth and on the floors to assist during the show.
Thanks to Dee Smith, Jennifer Stapp, Denny Turner, Dick Sampson, John Kruzel and others who crewed our Club Booth. Our Door Prize Committee, Gladys Walker and Simon King, did an excellent job with ticket sales and also making timely announcements via the PA system. Simon and Food Handlers The Sons of the Desert provided us with hot snacks and cold beverages. Well Done.
Junior Counselors Lois Lukasky and Marvin Dillard, along with their volunteer crew of Juniors and parents were a highlight of the show. They provided many younger members and adults alike with a fine selection of quality, affordable minerals, rocks and fossils. They also provided information to all on how to become a Junior Member of the SDMG Society. Our sister organization, the Gemological Society of San Diego, provided the general public with a comprehensive gemstone testing opportunity and freely explained all the details and procedures of gemstone testing and identification. Thank You.
Over the many years that the Society has held this show, we have barely made a profit. After totaling up the man- and woman-hours of our volunteers and paying all expenses, we would be bankrupt had we been a profit-oriented business. One might ask, "why do we keep on doing it year after year with so little financial gain?" One answer might be, "We do it Because we can" –or– "we do it to reveal our talents to the world." Our Exhibitors, who bring in their handiwork each year to put on public display give us the primary reason for holding the show. Our Exhibits Chairperson Ellen Riceman is truly thanked for her unwavering devotion to making it all happen.
Our Demonstrators who come in, set up their equipment and give the public a hands-on operational performance of how silver is worked, how cabochons are made, how gemstones are faceted, how spheres are made or how beads are strung, provided visitors with an opportunity to experience something very special first-hand, which they would not otherwise see.
It was all accomplished in a safe and secure environment, thanks to Lester Pendergrass and our Security Detail. And, as one of our pioneering members long ago clearly stated, "It takes a whole village to put on a single gem and mineral show."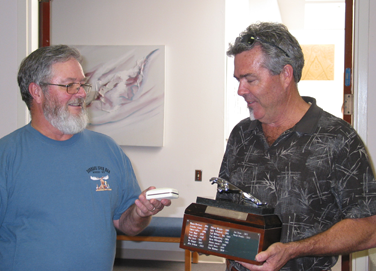 The Jaguar Trophy
This award is presented by the Society President to the SDMG member who enters the most beautiful case of their own work in the club's annual Show. The winner for 2013 was Jeff Fulkerson, who is shown here being awarded the Jaguar trophy and pin by SDMG President Garry Cannon for his display case filled with original jewelry featuring intarsia and baroque-shaped gem minerals carved from lapis lazuli, turquoise, charoite (or sugilite?) and varieties of quartz, including carnelian. Many of Jeff's pieces, such as the "Spirit Bracelet" and "Across the Universe" bracelet, were past San Diego County Fair award-winners. The Jaguar Award was conceived by Ron Willis, our English member, after he visited our show in 1987. He made the trophy for us using English walnut and marble.
GEM DIEGO SHOW DEALERS
The Rock Farm

– rock carvings, minerals, more


Merk's Jade

– jade, great slabs, cabs, gems


John Garsow Gems & Minerals

– minerals, fossils, facet rough


Prentiss and Dorothy Campbell

– faceting materials


Freys and Eredias

– rock geeks and big dog opals


Joan's Collection




Vance Gems

– gems & fine jewelry

Dahnke International

– jewelry, petrified wood


Blakeman Minerals

– minerals & gifts


Dragon Minerals

– minerals & lapidary


Ariana Gems

– lapis lazuli & Afghan material


Gem Guru

– lapidary, gifts, more


Earth's Treasures

– fine minerals, gems


Kluey's Gems