SDMG 85th Annual Banquet 2019

Jennifer Stapp and Melissa Ordway, Banquet co-Chairs
Saturday, March 16, 2019
Where:
Elijah's Restaurant
7061 Clairemont Mesa Blvd.
San Diego, CA 92111
Cost:
$35.00/person (see below for ticket information).
Adjustment Hour:
5:00 – 6:00 pm.
Light refreshments & coffee. No host cash bar.
President's Welcome:

6:00 pm
Scholarship Presentation:

7:15 pm
Program:
7:30 pm
"Making CAD Jewelry" by Zolotova

Tickets on sale now
avail. thru Tuesday, March 5, 2019
by mail from Chairperson
Write a check for $35.00 per person payable to: SDMG
Send your check to:
Jennifer Stapp
PO Box 500536
San Diego, CA 92150
Write your phone number on your check.
Note your meal selection on your check: short ribs, salmon, vegetarian or vegan.
Include a self-addressed stamped envelope.
Tickets avail.
thru Tuesday, March 12, 2019 from:
The Village Silversmiths' shop in the SDMG Building, 11:00am to 4:00pm daily
Board Mtg (Monday, February 18)
Jim Parrish at the General Meeting on Monday, February 25
Bob Hancock at his faceting classes on Wednesdays
Dave Smith at his casting classes on Tuesdays or the Juniors class on Saturdays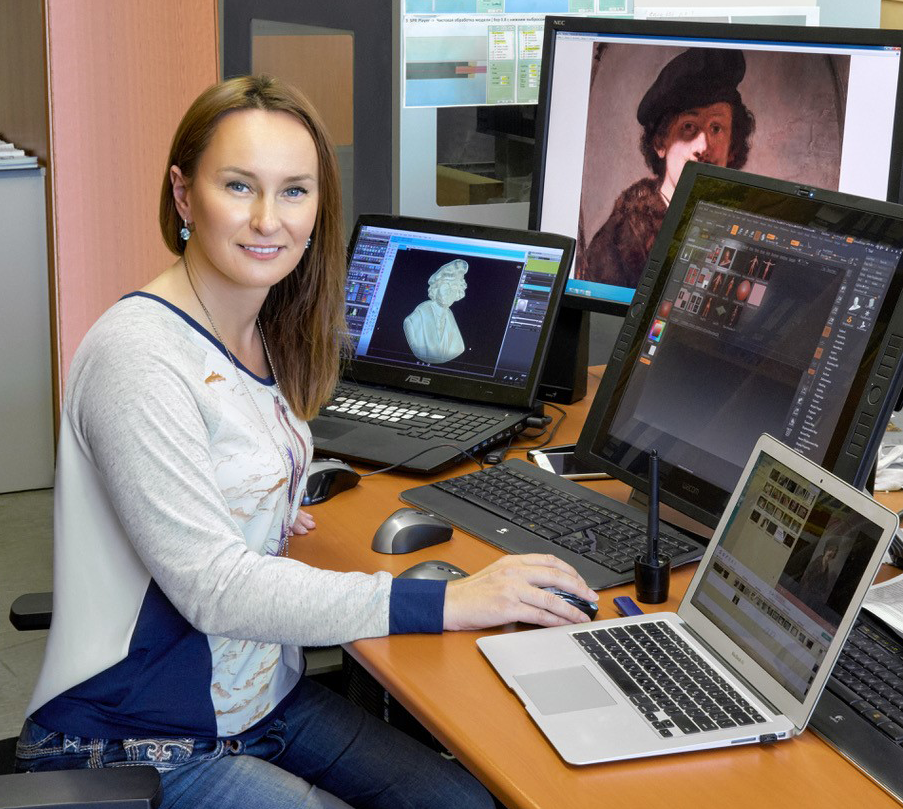 Larisa Zolotova at her CAD work station.
SDMG's 85th Annual Birthday Banquet
It's time to celebrate SDMG's illustrious history at our 85th Annual Banquet. It has been a well-attended traditional gala for many years. We'll be honoring our own, including past presidents and members who teach, volunteer, or contribute in countless ways. The banquet is the event where we formally support students interested in geology and lapidary-gem-jewelry arts.. We'll formally award the 2019 SDMG Scholarships and enjoy a special program. This year, it will be an evening event held at Elijah's Restaurant, in San Diego.
One of our Banquet traditions is giving scholarships to college students who show the promise to keep our love of Gems and minerals alive in the community for the future. We will be presenting two scholarship awards to this year's young winners. Rachel Ness will be the recipient of the William Tirk Scholarship (Jewelry/Metalsmithing) and Mason Einbund will be the recipient of the Carmelita and Bern Swarts Scholarship (Geology). Congratulations to Julia and Scott.
Program: Making CAD Jewelry
by Larisa Zolotova
This year's speaker will be award-winning jewelry designer Larisa Zolotova. Her intricate creations reflect the dynamic connection between functional and sculptural considerations. Her presentation will focus on the use of CAD software for designing jewelry. Larisa received training as a bench jeweler at the School of Jewelry Arts in St. Petersburg, Russia, and earned certifications from the GIA as Graduate Gemologist and Accredited Jewelry Professional in 2015. The following year, she graduated from GIA's diploma program in Jewelry Design & Technology.
Larisa's presentation will cover how the development of computer technology opens unlimited possibilities for modeling jewelry. She will discuss the capabilities of computer-aided design (CAD) systems and present a study on three technologies: high-poly modeling, spline modeling and NURBS modeling. She will also show how modern CAD systems for the jewelry industry enables modeling detailed sculptural forms and complex shapes with intricate features. Larisa will also share here experience with The Hermitage Museum, in St. Petersburg, Russia, and The Sackler Gallery, Smithsonian Institution, in Washington D.C.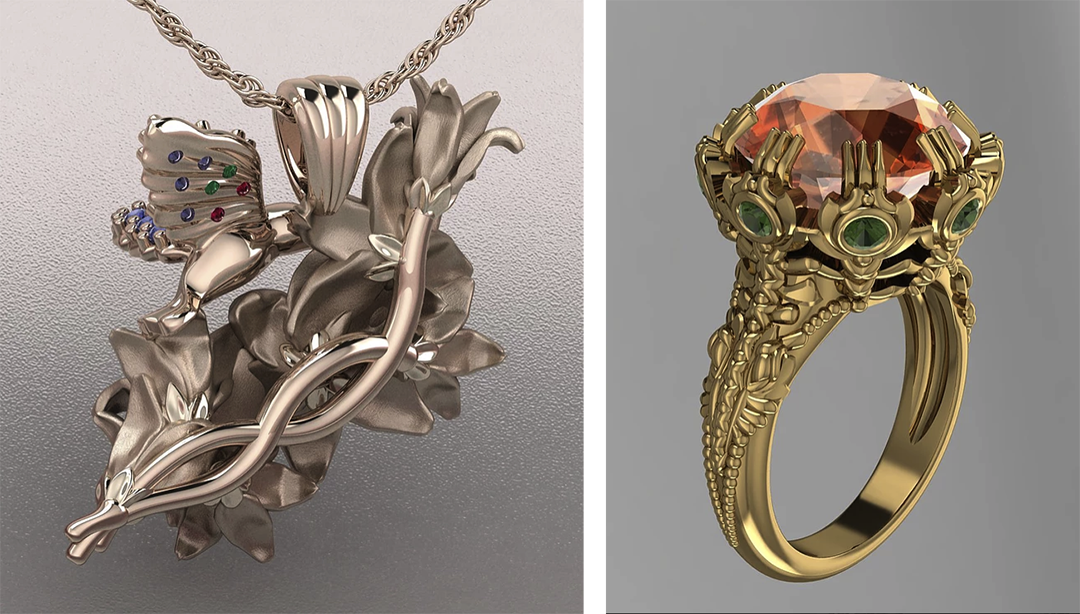 Left.Back view of "Hummingbird and Lilies" pendant. Right."Peacock Flower" ring.