IN REVIEW: SDMG 53nd ANNUAL SPRING BARBEQUE

Angela Cannon, BBQ Chairperson
We could not have asked for better weather for our 53rd Annual Barbecue that was held on Saturday, May 17th. The super-hot weather broke just in time!
As always, SDMG members and friends stepped up to make this year a success. We had a lot of great help setting up all those heavy tables and setting out the multitudes of silent auction items. I saw Jim Stafford, Eric Wetsman, Tim Bickford, Mike Harlow, Wayne Moorhead, Paul Williams, Wayne Leibitzke, Doug Peeler, Mike Bales, Natasha Tidwell, Amber Tidwell, Ruth Clerico, Susan Fuchsman, Dick Mayer, Garry Cannon, Lois Lukasky, Anne Schafer and Dana Munkelt. If I missed anyone, I apologize, I got caught up hauling tables, as well.
Diane Willner and Debbie Clough were at the Hostess Table helping everyone get signed in and set up to bid on the silent auction, plus they were selling a few remaining tickets, handling ticket pickup and answering any and all questions. Thanks!
The Silent Auction had a lot of equipment this year and lots of other great items. If it wasn't on the silent auction tables, the many folks who set up their selling tables certainly had it. Thanks to everyone who participated!
The Barbecue Pit of El Cajon catered for us again this year! We always appreciate their good service and great food.
Much appreciation also goes to Tom and Lucia Barckley for their dedication to keeping the Ugly Rock Contest running smoothly. I'm sure they look forward every year to see what we can come up with, and from what I have seen, we don't disappoint. Keep looking for those ugly rocks!
Simon King and Gladys Walker must have been selling raffle tickets non-stop. There is no better way to end the day than by winning one of the great raffle prizes given out by two of the nicest people in the club. Half of the raffle prizes are purchased by SDMG and half are donated by our members and friends. Thank you all for the contributions.
This event would not happen without the help of Anne Schafer, Wayne Moorhead, Doug Peeler, Mike Harlow and Garry Cannon. There is so much preparation work that has to be done long before the day of the event. Donations get picked up, and then the silent auction items get selected, cleaned, bagged and tagged. Plus, supplies are organized, tickets sold and items staged and hauled.
Thanks again to everyone!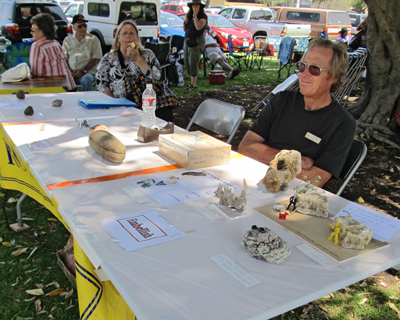 Tom and Lucia Barckley oversaw the Ugly Rock Contest. Photo: Angie Cannon.
Annual Ugly Rock Contest
by roving reporter, Anne Schafer
On a sunny, breezy, finally-not-a-smokin'-hot day in May, at the 53rd Annual SDMG BBQ, eleven ugly rocks were brought forth by their proud owners and entered in their own special contests.
Beautiful Ugly Rock Contest supervisors Tom and Lucia Barckley ran a squeaky clean election. And – ta-da! – the winners are:
Just Plain Ugly Rocks: Poo-poo is always a crowd pleaser, and Lisa Shield's discrete triple pile of rock "Excrement" took First Place by a landslide. Robt. Bradley's small but mightily enigmatic "Bob's Blob" won second. "A Fish Named Groucho," a Dolores Wheeler creation, grumped into third place. Grrr.
Mimic Rocks are supposed to look like something – we don't actually care what – but should definitely be recognizable. No problem! Wayne Moorhead apparently left a 5-dollar footlong in the 'fridge too long and it solidified into a sandstone "Sub Sandwich" First Place winner. Yum? Dolores Wheeler was grinning when she received second place money for "Old Smiley Face." And Jean Bradley's blackened, pock-marked "Moon Rock" was obviously stolen from a top-secret geological vault at NASA, finishing a modest third place.
Embellished Rocks are the most advanced category; not only must an ugly rock be found, it requires decoration! Multi-year champion Dolores Wheeler was once again inspired by Edvard Munch's famous painting, and she doodled fearsome features on First Place winner "Scream II." Angie Cannon's "Happy Stone Dragon" was clearly assembled while humming along to Pharrell Williams' song, "hm-hm-hmm…green spine goes here… ♫ …if you know what happiness means… ♫ … glitter gem goes there… ♫" Angie was happy to win second! The "Learning to Read" rock-shape-matches-word quiz by Donna Beers, and Dolores Wheeler's cute little "How Much Is That Doggie?" tied for third. My favorite was an imaginary movie set involving "Men in Black" cowboys and aliens in a stand-off behind rocks on far-off planet Selenite II. Thank you, Dana Munkelt, for the chuckle!