IN REVIEW:
TENTH ANNUAL SINKANKAS SYMPOSIUM – TOPAZ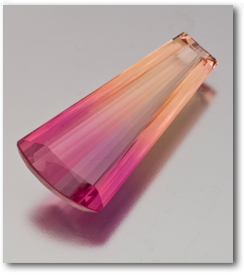 A rare bi-colored topaz (27.0 x 11.8 x 5.42 mm) from from Ouro Preto, Brazil.
Photo: Mia Dixon, courtesy Pala International
The Sinkankas Symposium has been described as the most important gemological conference in North America. Named for one of the most distinguished and influential figures in gemology and mineralogy, the Sinkankas Symposium is an annual one-day event highlighting a specific gemstone with presentations by well-known gem specialists. The annual event is organized by Roger Merk and is co-sponsored by the San Diego Mineral & Gem Society and GIA (Gemological Institute of America), which has provided the Symposium venue for the past decade. Bill Larson has been a generous supporter and speaker at the event since its inception. Topaz was the theme of the Tenth Annual Sinkankas Symposium, and an enthusiastic audience of more than 125 attendees converged at the GIA's Robert Mouawad Campus on April 21st to hear nine speakers talk on a range of topics, from the history and origins of topaz to lapidary and mineralogy.
Keynote speaker D. B. Hoover inaugurated the proceedings with a presentation on the "Historical Transmutations of Topaz." Known for his reference book, "Topaz" (Butterworth–Heinemann, 1993), Dr. Hoover spoke about nomenclature that has led to confusion from ancient times to the present day regarding the mineral known today as topaz and other gems such as citrine and peridot. He speculated on ancient awareness of this gem, owing to its association with tin mined at Cornwall in Roman Britain.
Skip Simmons travelled from the University of New Orleans to make a repeat appearance, presenting an entertaining and informative lecture on "Topaz Mineralogy," which was illustrated with his signature animated graphics of topaz crystallography. He provided current information on topaz localities, which augmented GIA's Distinguished Research Fellow Jim Shigley's discussion of "Topaz Geology and Localities." Shane F. McClure, GIA's director of gem identification services, spoke on "The Treatments of Topaz," an important topic in the gem trade. George Rossman, McMillan Professor of Mineralogy (Div. Geological and Planetary Sciences) at Caltech, Pasadena, discussed "Color in Topaz," venturing into its atomic structure to explain current understanding of the causes of color produced by Nature and in the laboratory. GIA's analytical microscopist John Koivula guided the audience on a visual odyssey into "The Microworld of Topaz," pointing out the internal features that provide evidence of the paragenesis of a gem host and its guest inclusions, and sometimes also point to a geographic origin or the intentional application of treatment techniques intended to alter or enhance the appearance of topaz.
Bill Larson gave a lively pictorial tour of exceptional topaz specimens, drawing from years of experience and many an adventure, with his presentation on "Collecting Quality Topaz." He showed a fabulous assortment of crystals in a range of colors from localities around the world. Lapidary artist Meg Berry presented a step-by-step process of carving topaz from gem rough to fashioned, polished carving in "Cutting Topaz." This year, Robert Weldon, Manager of Photography and Laboratory Publications at GIA, presented a visually lush historical narrative on "How Brazilian Bandeirantes Blazed Trails to Topaz – and other Gems."
The GIA hosted an on-site box lunch and refreshments in the morning and afternoon. Attendees had the opportunity to view the recently opened GIA Museum exhibit, "Tablet to Tablet: Treasured Pages from Past to Present," featuring a selection of rare books from the collection of the Richard T. Liddicoat Gemological Library and Information Center. Some of the featured volumes will have originally belonged to John Sinkankas, which served to remind attendees at his namesake symposium that this giant in the world of minerals left an enduring legacy to the field he loved.
Edited by Roger Merk
Photographs by Mia Dixon, John Koivula, Skip Simmons,
Orasa Weldon and Robert Weldon
Table of Contents
Acknowledgments 4
Speaker and Author Biographies 5
Papers –
Dr. D.B. Hoover, The Historical Transmutation of Topaz 11
Dr. Skip Simmons, Topaz Mineralogy 21
Dr. James A. Shigley, Topaz Geology and Localities 31
John Sinkankas, TOPAZ From Gemstones of North America 41
John Koivula, The MicroWorld of Topaz 55
Si and Ann Frazier, Topaz Words and Their Surrogates 63
Specifications: 8.5" x 11"; soft cover, 88p., 25 col. pl., 1 B&W pl., 9 diag. and tables