DECEMBER NIGHTS (CHRISTMAS ON THE PRADO) & CHRISTMAS POTLUCK – 2013

BALBOA PARK
December 6–7, 2013
By Jim Parrish
Wow, we had a great time and a very successful event this year. I'm sure most of you have experienced the fun and excitement of "December Nights." This year's event had extended hours until 11PM. So, for the volunteers it went late into the evening and for some, into the next morning. The museum and shop area were very busy with visitors and customers. Sometimes, they were three and four deep waiting to get in on the bargains.
It started with Bonnie Zeransky, Lois Lukasky and Jane Roush decorating the museum and setting up our potluck food area so that all who were present would be well fed. Thanks to all those who brought food to share. It was really good!
Lois Lukasky and Donna Casey sold items to benefit our Juniors, and the remainder of the booth was run by Angela and Garry Cannon, with Mike Harlow, Diana Willner, Jane Roush, Jim and Sally Parrish diligently giving change and wrapping specimens. There were many hours of preparation that went into organizing the material and making sure it was all priced ahead of time.
All that work was very fulfilling when we saw the thousands of smiling faces and amazing Christmas spirit from all.
This event wouldn't be possible without all the generous donations we receive on a continuous basis from people like SDMG member Judy Moore and her husband, who donated some beautiful large quartz specimens for our sale. We also received some nice tumbled stones from Wayne and Peggy Leibitzke. Also, I must mention the large donation from the estate of Bill and Nancy Schneider. Thanks to all of you.
Our shop area was kept open by numerous volunteers, including Paul Williams, Denny Turner, Bob Hancock and Rich Yarbrough. I may have missed a person or two, and if I did, I apologize and thank one and all for your time and effort.
Please consider donating some of your collection or time to this or other events this next year. I guarantee you will enjoy yourself.

December 16, 2013 By Bonni Mackintosh, Chairperson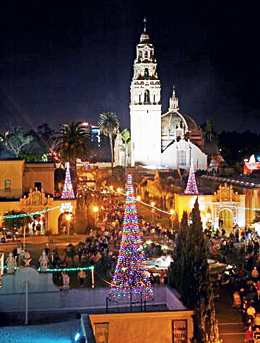 Our best reckoning counted more than 130 SDMG members and friends on December 16th in the Casa del Prado, Room 101. The hall was decked out beautifully by our core group of annual volunteers who deserve a lot of Thanks and Recognition:
Mike Harlow was the key, assisting in every aspect of this event! Jane Roush helped out, from wrangling the decorators to handling the Christmas Tree Ornament Contest. Lois Lukasky, Lee Jackson, Gladys Walker, Simon King, Jill Williamson, Cathy Davis, Marty Roks, Donna Casey, Betty Jo Lively and Audrey Potterton were so creative with all the festive and practical details, plus the cleaning up! Lastly, my daughter Elspeth, besides being my right-hand gal, picked up all the yummy table candies I'd left at home.
Sharon Griswold, Sally and Jim Parrish and Mike Harlow prepared multiple turkeys and hams to ensure all had plenty to eat. You—the members—supplied an amazing array of appetizers, side dishes, salads, and desserts, so we send thanks to ALL for making this a great party.
Fifty-eight prizes were raffled and while the SDMG Board managed the door prize list and silent auction portions of the Potluck, I know these were a success, too.
Mark your calendars in advance for December 15th, when 2014's Potluck is booked for the same room. I will be looking to hand over the baton to another person for the role of Christmas Potluck Chairperson after 2014, so please step forward if you are interested, and I'll be glad to show you the ropes.
All the Best for a Happy New Year.