Looking Back at 2013, Looking Forward to 2014
December 31, 2013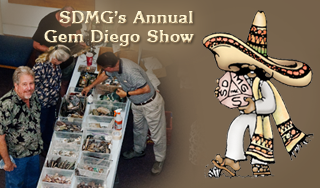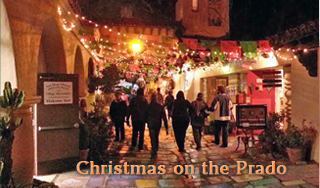 A small army of dedicated volunteers made the past year especially memorable and successful for the Society. The Donation Committee accepted quite a few donations to the museum collection or designated for sale at SDMG's special events. Thanks to our donors, the Club booth at the Gem Diego Show and Open House at Balboa Park's December Nights ("Christmas on the Prado") attracted a lot of shoppers who found treasures at bargain prices to carry home. Indeed, every one of the Society-sponsored events in 2013 was a huge hit, and some broke records for attendance and sales at the club booths, thanks to the generosity of donors who parted with mineral specimens and equipment forSDMG's benefit. Our vendors had a big role to play in making our events successful, and we are both happy and grateful to see them participate year after year.
If you visit the public website (www.sdmg.org), you will see an impressive roster of activities recapped in the reviews of the events of 2013, with pictures and acknowledgments of the participants who had a hand in making the Club's activities successful. Their handiwork was seen in myriad tasks, so thanks go out to all the contributors who:
promoted and publicized
registered participants and sold tickets
ran the booths, raffles and auctions
decorated and cooked
set-up, installed and tore down
demonstrated and educated
SDMG classes continued to be immensely popular, with our instructors giving their time and sharing their knowledge about geology, gems and minerals, lapidary art, faceting, and jewelry-making. Their range of experience and talent is impressive. In 2013, 25 classes were taught by 22 instructors, including Jim Claypool, Eva De Fur, Jon Evans, Stephanie Griffin, C. Don Hall, Bob Hancock, Lee Jackson, Simon King, Jan Kunsa, Wayne Leibitzke, Jackie Leverone, Lois Lukasky, Elbert McCune, Doug Peeler, Ellen Riceman, Jerod Schneider, Dee Smith, Denny Turner, Thomas Upton, Randy Welborn, Paul Williams, and Rich Yarbrough.
The workshop and equipment were kept shipshape thanks largely to Wayne Moorhead and Bob Hancock. Thanks to Denny Turner, the class descriptions for the website got a much-needed updating. Several volunteers and some of our instructors did double-duty demonstrating sphere-making, lapidary art, faceting, and metal-working at the various 2013 events, including the Gems, Minerals & Jewelry Dept. at the San Diego County Fair.
At the Annual Banquet in 2013, Scholarships were awarded to Luke Weidman for Geology, and Niki Grandics for Jewelry and Metalsmith. The scholarships are given every year to assist two students in the pursuit of their educational endeavors. Scholarship recipients are nominated by the Department Heads of the Geological Sciences and the Jewelry/Metalsmithing College of Fine Arts.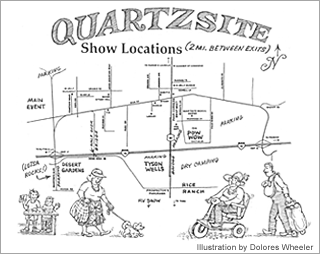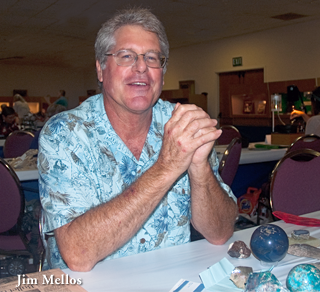 In addition to presiding as SDMG President, Garry Cannon organized a great roster of speakers for the General Meetings, which included Dr. Gary Peterson, who spoke about "Meteorites and Other Space Debris"; Doug Peeler gave a presentation of the syllabus for his new Descriptive Mineralogy class; Nathan Renfro spoke about "The MicroArt of Gems: Exploring Hidden Beauty with Magnification"; Mark Mauthner talked about his field trip to Morocco, which was also the venue for the Mindat Convention; and Denny Turner made a presentation on "The Metal Art of Chasing and Repoussé."
Mineral Division Chairperson Jane Roush organized bi-monthly meetings with show-and-tell sessions on featured minerals, with Jim Parrish and Simon King making presentations several times throughout the past year. Lois Lukasky chairs the Junior Division, and she organized the Saturday classes and the Juniors' exhibits and booths at the San Diego County Fair, the Gem Diego Show and the December Nights Open House. Usually, the kids go on several backyard field trips during the year, and 2013 was no exception. This coming April, Lois is organizing a Junior Division Field Trip to the Oceanview Mine, which should be a lot of fun.
Roger Merk outdid himself in 2013 with the Eleventh Annual Sinkankas Symposium – Ruby. The event was co-sponsored by SDMG and GIA. Roger assembled an impressive roster of speakers including Gary Bowersox, who flew in from Dubai, while George Harlow came from the American Museum of Natural History, New York, Richard Hughes travelled east from Hong Kong, Elise Skalwold travelled west from Cornell University, and taking the elevator were GIA gemologists Shane McClure, Nathan Renfro and James Shigley, and GIA photographer Robert Weldon. No symposium on ruby would be quite complete without Bill Larson, who presented a lively travelogue of ruby localities illustrated by a dazzling assortment of rough and cut ruby specimens. GIA's Carol Moffat worked with Anne Schafer and Sally Parrish behind the scenes to coordinate registration and the day's event, which was held at GIA's World Headquarters in Carlsbad. It will be difficult to top last year's event, but Roger is hard at work assembling the speakers for the Twelfth Annual Sinkankas Symposium on Peridot.
Treasurer Anne Schafer seemed to be omni-present, contributing to very nearly every aspect of every event, helping committee chairs ensure that everything ran smoothly and nothing got overlooked. As in years past, Anne took a leading role in coordinating the exhibit installation/deinstallation, docent tours, and demonstrations at the San Diego County Fair. Wayne Moorhead and Doug Peeler conveyed their enthusiasm for minerals in the tours they gave to a fascinated public. For the 20th year, Charlene Churilla chaired the Annual Banquet in March; Angie Cannon chaired the Spring Barbeque; Bob Hancock chaired the Gem Diego Show; and Bonni Mackintosh chaired the Christmas Potluck. Mike Harlow was another ubiquious contributor to the Club's events and at the Fair. Among the many unsung heroes and heroines who volunteered over and over again in 2013 were Donna Casey, Cathy Davis, Mary Jane Dunn, Lee Jackson, Simon King, Wayne Moorhead, Sally Parrish, Lester Pendergrass, Ellen Riceman, Dee Smith, Paul Williams, Diane Willner and Rich Yarbrough. Lisbet Thoresen kept the website up-to-date and looking professional, and she produced The Pocket Pegmatite and the monthy eNewsletters.
In recognition of her many years of service, SDMG Board Member, past president, and Club historian Shirley Leeson received the AFMS 2013 American Federation of Mineral Societies Recognition Award. In a notable milestone for SDMG, Dolores Wheeler retired from illustrating the bulletin after 12 years. Her last illustration appeared in the June 2013 Pocket Pegmatite. The personal imprint of Dolores' humorous mineral- and show- themed ink drawings will be missed. And in another transition for SDMG, Jim Mellos, Field Trip Organizer and unofficial Club bard, decided to step down after 12 years of service. Some of his more memorable collecting adventures have been penned for The Pegmatite, including "The Pocket," in the February 2013 Pegmatite, "A Day in the Life of a Rockhound," in the December 2012 Pegmatite and "Living to Tell the Tale: Water, the Most Important Provision on a Desert Field Trip," in the October 2012 Pegmatite. Check out the public website to read some of his reviews of past SDMG field trips. Jim's special gift for inspiring camaraderie, fun, and adventure will be missed.
More changes are coming in 2014. Sally Parrish has announced that she would like to step down as Membership Secretary and Bonni Mackintosh is ready to hand over the reins for organizing the Christmas Potluck.
It is hard to imagine how we can top ourselves in 2014, especially when many of our reliable and capable organizers and participants are ready to pass the baton to others in the coming year. More than ever, our Society needs its members to step up and contribute their talents and abilities, ingenuity and experience, muscle and can-do spirit. Here is a list of the really big shoes the Society needs to fill in 2014:
Field Trip Coordinator
Membership Secretary
Spring Barbeque Chair
Christmas Potluck Chair
Please contact SDMG President Garry Cannon (info@sdmg.org), if you are interested in taking on any of these roles. You will get plenty of collegial support to ease the transition and lighten the responsibility. We are after all a community, and we thrive solely because our Society's mission and activities are rewarding, interesting, and fun for everyone who participates.