CALENDAR OF EVENTS

CALENDAR OF EVENTS
JUNE
2020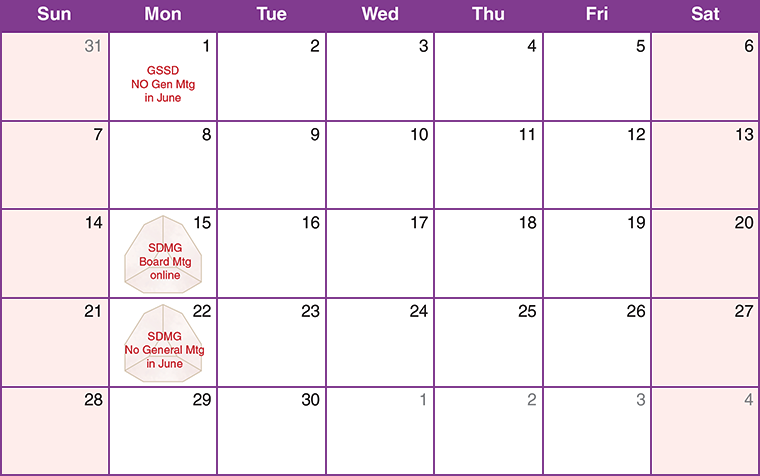 I. SDMG & GSSD Meetings & Events
UNTIL FURTHER NOTICE
ALL Classes, Meetings and Events at the SDMG bldg are SUSPENDED.
The SDMG Workshop is CLOSED.
Updated June 11, 2020 – We are closely monitoring public health updates on the novel coronavirus (COVID-19) pandemic, and we look forward to reopening the SDMG Museum and Village Silversmith's store soon, consistent with Phase 2 guidelines – meaning conditions will be applicable. It is recommended that you call before planning your visit (619-239-8812).
We are concerned that members of the community and our club members and their families stay safe and healthy, so we are following guidelines issued by local, state and federal agencies as well as Balboa Park policy. Large gatherings fall under Phase 3 reopening guidelines. No date is estimated at this time for a Phase 3 reopening. Updates will be posted here as they become available to us. In the meantime, please be patient, stay safe and stay at home as much as you can.
ALL SDMG Classes Suspended -- the Workshop is CLOSED

NO SDMG General Meeting

in June

Southwestern Miners and Prospectors Association

meeting

NO GSSD Meeting

in June
Events and Activities not sponsored by SDMG
Many events of interest to the community of gem-mineral enthusiasts are posted on this web page. In response to local, state and federal guidance, many planned events have been cancelled and more events may be cancelled in the coming weeks and months. At this time it is not possible to forecast likely or unlikely cancellations that may occur. If and when information is made available to us, changes to event status will be updated here. However, you should check the websites of event sponsors for current information. Some societies are migrating their meetings featuring guest speaker presentations to online platforms such as Zoom or GoToMeeting. Many organizations and groups are hosting free webinars on a wide range of topics. Many of these online events are free of charge and open to guests/the public at large (We've begun highlighting selected webinars in our monthly bulletin.)
Shows and events held through June 2020 appear in
The Pegmatite (June 2020)
Download a membership application »
or Renew online – Details »
I. and II. All Meetings, Events & Shows
Ongoing SAN DIEGO, CA– Hidden Gems [exhibition] -- MUSEUM CLOSED UNTIL FURTHER NOTICE
San Diego Natural History Museum
Balboa Park
1788 El Prado
San Diego, CA 92101
Admission: Members FREE; Adults $19.95, Seniors (62+)/Military (ID)/Students $16.95, Children 3– 17 $11.95, Kids 2 and under Free.
Hours: 10am – 5pm daily. (CLosed Thanksgiving and Christmas day.)
Website: www.sdnhm.org/exhibitions/hidden-gems/
The Nat shows some extra sparkle with an exhibition featuring 100 gem-mineral treasures from the permanent collection. Dr. Terri Ottoway, who is the museum curator for the Gemological Institute of America (GIA), in Carlsbad, provided curatorial guidance on the selection of items. The unique vertical exhibit was designed by the Nat's in-house Exhibits team and is arranged across all five floors of the Museum's northwest corner. Access to the exhibition is included with admission and free for members.
Sat, May 16, 2020 CARLSBAD, CA – Seventeenth Annual Sinkankas Symposium – Agate and Chalcedony -- CANCELLED
Venue: GIA World Headquarters and The Robert Mouawad Campus
5345 Armada Drive, Carlsbad, CA 92008
Sponsors: GSSD and the Gemological Institute of America (GIA)
Registration: CANCELLED. The event organizers are working on rescheduling the 17th Annual Sinkankas Symposium for April or May 2021.
Refunds: Attendees who registered for the event or paid in advance for extra copies of the printed proceedings will be contacted by the event organizer regarding refunds, which will be processed after March 13, 2020.
Website: sinkankassymposium.net
Named for one of the most distinguished and influential figures in gemology and mineralogy, the Sinkankas Symposium is an annual one-day event featuring presentations by noted specialists working in diverse gem-related disciplines. The theme of the Seventeenth Annual Sinkankas Symposium is Agate and Chalcedony. Nine recognized specialists in fields ranging from geology and mineralogy to history, treatment, cutting and collecting will present on Agate and Chalcedony. The all day event will convene at the GIA worldwide headquarters and Robert Mouawad Campus in Carlsbad, California, which has been the venue for the previous 16 events.