CFMS & SDMG FIELD TRIPS
CFMS & SDMG FIELD TRIPS
Weather and other conditions permitting, SDMG often sponsors one or more field trips per month. Some of the field trips are day or half-day trips; although, some field trips are overnighters. Overnight trips require members to have their own camping equipment. In some cases motels are available, but they are usually quite a distance from the dig site.
Many of the field trips are in rugged areas and members should have the basic equipment for an excursion into the California back country, including:
Sturdy, comfortable clothing and boots for hiking.
Warm clothing in case it gets cold.
A good hat.
Lots of water.
Sunscreen.
Knee pads, safety glasses or goggles, and gloves.
Meals and a camping stove (for overnighters), or good snacks for day trips.
A good flashlight, knife, and whistle.
A basic medkit is nice with bandaids and such. Home Depot has nice small ones for only a few dollars.
Garbage bags/plastic bags for packing out trash.
Basic digging equipment: rock hammer, pry bar, shovel, pick axe, hand-held sledge hammer, chisels, plus lots of buckets for hauling your treasure home!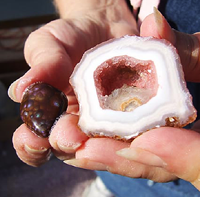 Past trips have included outings to the following California destinations:
Searles Lake (near Trona): Hanksite, Pink Halite.
Wiley Well (near Blythe): Fire Agate, Geodes.
Himalaya mine tailings (near Julian): Tourmaline; Lepidolite.
Afton Canyon (near Barstow): White Marble, Red and Yellow Agate, Lava, Fluorite.
Stoddard Wells: Verde Antique, Tri-colored Marble, Black Jade.