BLM RESOURCES FOR ROCKHOUNDS

On March 6, 2015, the BLM released the Draft Amendment to the California Desert Conservation Area (CDCA) Plan and Draft Supplemental Environmental Impact Statement (SEIS) (Draft EIS and related resources) for the West Mojave Route Network Project (WMRNP). The CDCA and SEIS provide direction and guidance on the management of over three million acres of public lands in San Bernardino, Inyo, Kern, Riverside and Los Angeles counties.
According to the BLM, the CDCA plan amendment proposes plan revisions related to travel management networks and off-highway vehicle access, livestock grazing and recreation (that's us, folks) within the West Mojave (WEMO) planning area managed by the BLM's Field Offices in Barstow, Ridgecrest, Needles and Palm Springs. General information abou the Draft Amendment to the Plans can be found at https://federalregister.gov/a/2015-05127.
Scope of the Draft Amendment Plans. The lands covered in the WMRNP are areas previously defined as "Limited" to designated routes for motorized access. Areas defined as "Closed" to motorized access are outside the scope of the planning effort. According to the Federal Register website, the current DRAFT Plans have been revised from the previous iteration:
"In response to public input, access considerations focused on maintaining a viable transportation network, diverse recreational opportunities, providing access for specific users, (including rock-hounders, motorcyclists, scientific and educational activities, and non-motorized users), dealing with conflicts between users, and maintaining commercial access needs."
Three Alternative Action Plans are under consideration. The Preferred Alernative Plan includes a "regional mitigation strategy" for limiting off-route stopping/parking within the boundaries of the planning area with the aim of minimizing adverse impacts to undisturbed habitat or environmentally sensitive areas. The locations of camping and staging areas will be designated based on consideration of competing concerns such as environmental values and recreational uses.
Calling all rockhounds. It's up to us to submit comments identifying the specific collecting areas and access roads/trails that should remain open to rockhounding activity.
Tips on writing a good comment letter. Comments such as "Don't close any access roads to collecting areas in the Mojave Desert" are too generalized to be effective. Critical comments about the values of other stakeholders (e.g., OHV, environmentalists, etc.) are counter-productive. It's more useful to point out how rockhounding ethics are concerned with preserving the natural character of wilderness areas with minimal intrusion on the environment and habitat. Rockhounds are concerned with continuing to have access to collecting areas that we've enjoyed for decades. Factual and detailed information voiced in a respectful tone reflects positively on all rockhounds as a community. Our concerns stand the best chance of fair hearing if we come to the discussion as proactive stakeholders. Just like the DRECP, maps are useful tools to show the BLM precisely which areas and access roads/routes concern rockhounds. An interactive map tool and WEMO supplemental maps are available on the BLM website to help you identify areas relevant to your comments. See also BLM/WEMO website detailed maps of Federal Wilderness areas and motorized vehicle access routes (map of scope areas shown below).
Four public meetings are scheduled through April, 2015 (see box at right). Rockhounds can make a strong impression by attending the meetings and participating in constructive dialogue.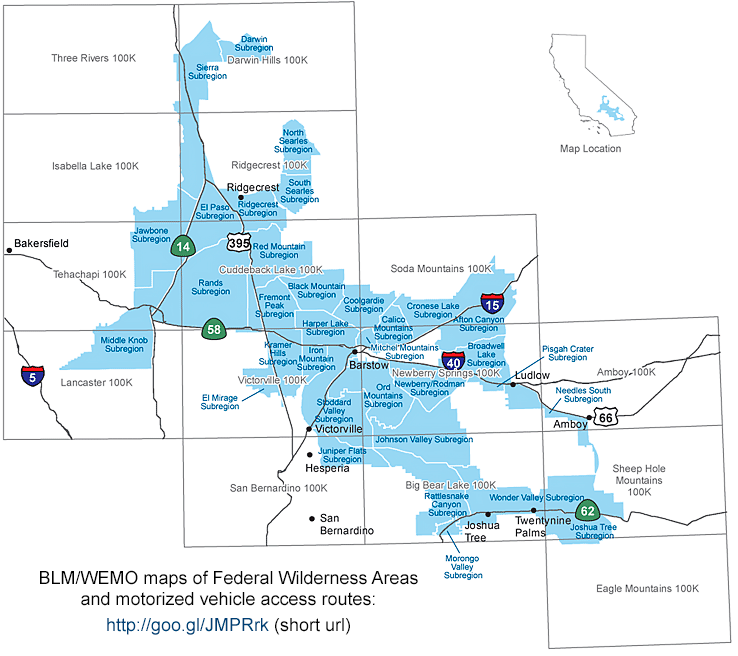 Who's fighting the good fight?
– a model of effectiveness
– useful information
Alliance for Desert Preservation (A4DP)
Effective comment letters to DRECP. Concerned with Lucerne Valley, primarily, but everyone who cares about the California desert stands to win if A4DP prevails.
Tubb Canyon Desert Conservancy (TCDC)
Sponsored a petition to ask DRECP to consider a distributed energy alternative plan to the DRECP's five utility-scale plans that threaten to industrialize the California desert. Thank you, if you were one of the 12,000 signatories to the petition.
mojavedesertblog.com
Thoughtful wildlife and conservation-focused blogger. Great information. (Helped SDMG write our proposed revisions to land use designations to protect rock-collecting areas.)
Mojave Communities Conservation Collaborative
Co-wrote terrifically effective comment letter to DRECP (with Alliance for Desert Preservation). Supportive of rockhounds.
Basin and Range Watch
SDMG signed on to BRW's letter to DRECP for its proposed alternative energy plan. Daily factual reporting of what is going on in the California desert.
Chris Clarke
Natural history writer and environmental journalist based in Joshua Tree. Investigative reporting on the DRECP.
The DRECP comment period
ended February 23, 2015
What's next?

February 28, 2015
by Lisbet Thoresen
SDMG's Desert Renewable Energy Conservation Plan (DRECP) campaign. Many individuals and organizations worked tirelessly to review the voluminous DRECP document published on September 26, 2014, so they could prepare cogent comment letters by the February 23, 2015 deadline. Shirley Leeson took a leading role to rally the rockhounds, from whom the BLM had heard very little during the comment period. She prepared a rockhound survey, which SDMG sponsored and publicized with a grassroots campaign. SDMG's intention was to include the survey results in our comment letter.
Getting rockhounds on record. To our knowledge, no study has ever been performed to characterize amateur rock collecting as a recreational activity on public lands in California. We felt that the changes we proposed to the DRECP would be bolstered by the survey information. In 11 weeks, 177 individual respondents took the survey. SDMG's letter included specific requests that BLM apply land use designations to protect 19 "at risk" collecting areas and ensure vehicular access to them through adjacent lands. On February 23rd, SDMG's comment letter on the DRECP was submitted to the DRECP, and also to the commissioner and directors of the relevant agencies – California Energy Commission (CEC), Bureau of Land Management (BLM), California Dept of Fish and Wildlife, US Fish and Wildlife Service. Copies were also sent to California state Senators Dianne Feinstein and Barbara Boxer, and California 50th District Representative Duncan Hunter. Based on the number and quality of defects called out in comment letters docketed during the comment period, we hope that the public can look forward to seeing significant revisions made to the plan.
Other forces are now in play. On February 9, Senator Dianne Feinstein introduced the California Desert Conservation and Recreation Act of 2015. This bill, which is co-sponsored by Senator Barbara Boxer, is an updating of the California Desert Protection Act of 1994 and purports to "protect additional land and help manage California's desert resources by carefully balancing conservation, recreation and renewable energy development." It seems clear that the proposed bill complicates the glide path for the DRECP. We need the concerns of the rockhound community to be incorporated into the Feinstein-Boxer bill. Certainly, we'll be weighing in over the weeks and months ahead. The DRECP is shaping up to be a monumental brawl over the biggest land use amendment proposal in California in the past 30 years. We'll need to galvanize a whole lot more constructive effort from our community stakeholders. According to Shirley Leeson, there are over 52,000 organized (club-affiliated) rockhounds in the United States, with 10,000 rockhound members of gem-mineral societies in California and Nevada. This time around, a few people cannot do everything for everyone else – the strength of numbers is needed. Read the whole article »
Storm clouds gather over California's deserts*

January 26, 2015
by Lisbet Thoresen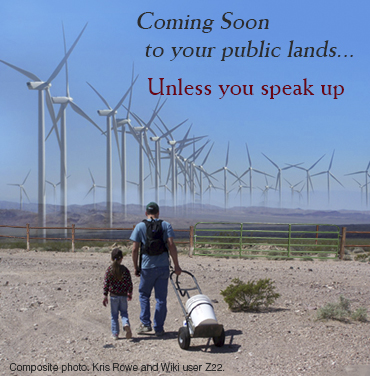 Natural habitat, ecosystems, and scenic and wilderness areas, as well as geologically distinctive or historically significant areas in the California desert will be altered dramatically, perhaps irrevocably, if the Recommended Alternative Plan of the Desert Renewable Energy Conservation Plan (DRECP) is adopted as drafted currently.
Southern California desert communities can look forward to the unspoiled vistas and natural environment they value being blighted by the construction of power transmission corridors through public lands and utility-scale projects on adjacent private lands. Areas previously accessible for recreational uses, including sites that have been popular with amateur rockhounds for many decades, may be closed or become inaccessible due to trail and road closures on adjacent lands. At the least, recreational users can look forward to restricted access and an uncertain future in which development trumps other considerations on BLM-administered lands. Read the whole article »
* This article is a revised version of an article that originally appeared here on January 8, 2015.
Download a print-friendly version of the article.
SDMG DRECP Survey submitted at
Dec 6th BLM meeting on DRECP

December 15, 2014
A small group of recreational rockhound advocates, including American Lands Access Association (ALAA) President Shirley Leeson, attended the BLM Desert Advisory Council (DAC) meeting held in Palm Springs on December 6th. The meeting agenda focused on the Draft DRECP (Desert Renewable Environmental Conservation Plan), which after five years, will close to public comment on February 23rd, 2015. Five alternative action plans (plus one "no action" plan) are under consideration. All five plans propose development of renewable energy projects on public lands and will curtail or severely restrict recreational use of many popular rock and fossil collecting sites. The Final Plan will be in effect for the next 25 years – through 2040.
To date, input on the Draft DRECP from mineral club members, amateur rockhounds and the public has been limited, so Ms. Leeson prepared a survey to give rockhounds a platform to weigh in on the Draft DRECP before it is codified, carved in stone, and rockhounds are shut out from our favorite haunts in Southern California's deserts for a generation.
Shirley presented the survey responses tallied between December 2nd and 5th at the BLM-DAC meeting. In just two and a half days, more than 100 respondents took the survey, many relating poignant personal experiences and writing about the significance of preserving public lands for posterity. Read Shirley's report on the BLM-DAC meeting below.
Shirley Leeson and San Diego Mineral & Gem Society thank everyone who rallied on short notice and participated in the survey. It's a great start. To be sure, if we are to avoid becoming #ghostsofthedesert, a lot more input will be needed.
Rockhounds – Ghosts of the Desert
Status update: Dec 6th BLM meeting on DRECP

December 12, 2014
By Shirley Leeson, ALAA President
As we bring to a close 2014, I look back on all the things that have happened this year… and it's overwhelming. But the most pressing issue right now is the DRECP (Desert Renewable Energy Conservation Plan) – five years in the making by those hell bent on closing to recreational use what little is left of the Southern California Desert, which amounts to less than 10 percent of the State's public land. All the special interests have carved out various areas that have taken away millions of acres of land once designated as "multiple use." It is land we all could share and enjoy. Now, many places have fences and locked gates and worse still, giant areas are covered with solar panels – and there are more to come, along with wind turbines. Jerry Brown, Governor of California, has made it his priority to get all his renewable energy plants built in the desert and use public land to do it.
All the state and federal governments are working in lock-step to achieve the Governor's objective. Rockhounds are in the middle of this and at the bottom of the priority list. We were not asked to sit at the table during the last five years and give our input. Their goal is "planning for renewable energy development while protecting habitat in the California Desert." Nowhere does it say, any of this plan favors recreation or multiple use by people.
I spoke to the BLM's Desert Advisory Council on Saturday, December 6th. I called rockhounds "The Ghosts of the Desert." The endangered Species. Rockhounds are the forgotten people of the desert. There are thousands of us, many of whom have been calling the desert our second home since the 1960s. We leave little behind to indicate that we've been there. We carry out others' trash, as well as our own. Unlike the protected desert tortoise and other endangered species which have had thousands of acres set aside, the rockhound may be entirely shut out of our beloved desert.
At the BLM meeeting, I asked for help in setting aside some of our sacred places. Help with ensuring rockhound areas are included in the DRECP. I reminded some of the meeting participants that there was an unanticipated economic impact. Rockhounds spend money in the small towns spread throughout the Southern California Desert – at service stations, motels/hotels, grocery and convenience stores, specialty shops and restaurants. If we are locked out of our traditional collecting sites, we won't be coming through nearby towns any longer. One of the attendees at the meeting is an "At Large Public" representative on the DAC. He is from Barstow, a stopping off area for rockhounds, and he is well aware of the economics of the situation. He received a copy of the SDMG Rockhound Survey, as did Katrina Symons of the Barstow BLM Office and also Kim Campbell Erb. The survey measured about an inch and a half thick and was seen by all the DAC members and meeting attendees.
I got entered into the record a number of specific areas of concern to rockhounds. First, our Memo of Understanding regarding the Wiley Wells, Hauser Bed area. They are checking on its status, but we believe that it has been put into the Plan. Second, I cited the following areas: Lavic Siding, Broadwell Dry Lake and Ludlow area, all of which are in the vicinity of Hector and Ludlow, along Route 40; Cady Mountains; Gem Hill; Lonely Butte (Brown Butte, off Highway 58); North Edwards/Aerial Acres and roadside collecting along Clay Mine Road, off Route 58; Mule Canyon, near Calico Ghost Town off I-15; Marble Mountains near Cadiz, off the National Trails Highway (Old Route 66); and Kramer Junction. I know there are more areas I should have proposed such as Afton Canyon and others, but this is a start.
Were there any rockhounds at the meeting supporting the case to keep collecting sites accessible at this critical time? NO, THERE WERE NOT. Dee Holland, Jay Erb (Kim Campbell Erb currently sits on the DAC) and I carried the burden alone. We hope to see more of you at the next meeting.
Watch for developments that are coming in other states. A push by Congress this month – December 2014 – is going to see bills attached to many of the important funding items on the legislative agenda. We have already seen the closing of a number of areas in Montana (see the article below on the Lolo National Forest collecting site) and Colorado. Please watch closely, and let us know (info@amlands.org) about anything you read or see about public lands in your state. And please rejoin ALAA. Dues are due now.
Rockhounds – Ghosts of the Desert
Slated to lose access to collecting sites for the next 25 years

December 1, 2014
Make your voice heard by taking the Survey for DRECP
First Deadline: December 5, 2014
(in time for Dec 6 BLM mtg)
The Draft Desert Renewable Energy Conservation Plan (DRECP) Environmental Impact Report/Study (EIR/EIS) proposes changes in land development for geothermal, solar, wind energy projects and imposes severe limits on recreational uses of Southern California's deserts. The final Plan will be in effect for the next 25 years (see details and background below). Currently, the Draft DRECP (EIR/EIS) contains five alternative action plans, all of which propose to limit or curtail access to rock- and fossil-collecting sites on public lands that have long been popular with amateur rockhounds and fossil collectors. We are confronting closures to many of our most popular collecting sites in California, including Wiley Wells area, Gem Hill, Lone Butte, the Cady Mountains and Lavic Siding.
To date, members of gem-mineral clubs and rockhounds have contributed little input to the Draft DRECP (EIR/EIS), so not surprisingly, the action plans do not reflect the concerns of our constituencies. The comment period on the Plan has been extended to February 23, 2015. This is our last chance to have a say about access and recreational uses of our public lands through 2040.
SDMG wants your input on the important public policy matters set forth in the Draft DRECP (EIR/EIS). If you are an amateur rockhound, a member of a gem-mineral club, or a concerned citizen who wants to continue having access to and recreational use of public lands that you've enjoyed for decades, please take the time to fill out the survey form.
ALAA President Shirley Leeson will compile the survey data collected through Friday (2:00pm), December 5th, and present the results at the December 6th BLM DAC meeting in Palm Springs. All the results collected and compiled through February 15th, 2015 will be submitted to the BLM-DRECP prior to the close of the comment period on February 23.*
Note: the final deadline for the survey has been extended from December 15, 2014.
2014 – a tough year for rockhounds

By Lisbet Thoresen
November 21, 2014
DRAFT DRECP EIR/EIS
Comment period extended through Feb 23, 2015
The comment period has been extended on the Draft Desert Renewable Energy Conservation Plan (DRECP) Environmental Impact Report/Study (EIR/EIS), which will guide land use/development in California's deserts through 2040.
Originally scheduled to close on January 9, 2015, the new close date of the comment period is February 23, 2015.
Voice your opinion about the alternative action plans and administrative changes under consideration – they will directly affect access or closure to rockhounding sites for a long time to come. How to stay informed or comment: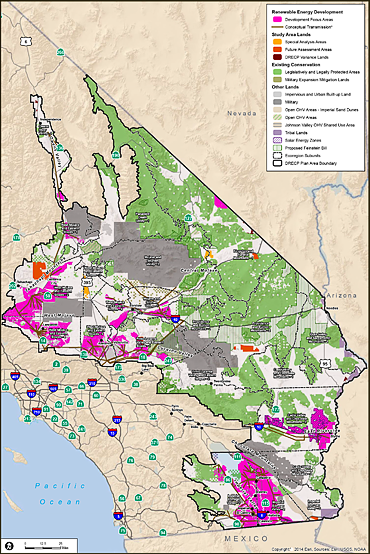 Preferred alternative – Plan-wide development focus area.
View large-size map
Limiting or curtailing access to publics lands and rock collecting areas has been an ongoing longterm trend. In April, rockhounds saw the closure of the Lolo Creek Crystal Digging Area in LoLo National Forest (west central Montana) (see Shirley Leeson's report on Lolo on this page). More recently, on October 10, rock collecting sites located in the Angeles National Forest and San Bernardino National Forest were put off limits to amateur rockhounds. In the December issue of the CFMS newsletter, John Martin reported on the new prohibition, which resulted from an Executive Order designating these federal lands as a national monument.
Earlier in 2014, on June 12, California Representative Judy Chu introduced HR 4858: San Gabriel National Recreation Area Act in the US House of Representatives. The bill proposed changes for administrative oversight of more than 600,000 acres of federal lands. The bill included language that recognized amateur rock collecting as a recreational activity. The Executive Order President Obama signed last month placed more than half of this area – 342,177 acres – under the protection of existing laws concerning national monuments. These laws do not provide provisions similar to those in HR4858, which would have exempted amateur rockhounding activity, so such activity is now effectively forbidden in the newly created San Gabriel Mountains National Monument.
Other collecting sites on public lands, specifically in California's deserts, are impacted by the Desert Renewable Energy Conservation Plan (DRECP), which covers more than 22 million acres, including BLM-administered lands, in Imperial, Inyo, Kern, Los Angeles, Riverside, San Bernardino and San Diego counties. In addition to the development of alternative renewable energy plans (e.g., solar, wind turbine, geothermal), other land use considerations such biological habitat and recreation (e.g., rockhounding) fall within the scope of the DRECP. Administration of some areas currently under BLM oversight may be reassigned to other agencies.
Since March 2009, more than 40 publicly noticed meetings have been held to invite discussion and comments on alternative plans being drafted for land use/development through 2040. Five alternative action plans have been drafted, in addition to one no-action plan. They reflect the input of different stakeholder constituencies (read about the background of this project below; view the video overview and introduction of the DRECP).
The public Draft DRECP – five years in the making – reached an important milestone with its publication on September 26, 2014. It is subject to comment by the public and interested parties through February 23, 2015 – another critical milestone. The most recent public meeting was held on November 19th in Joshua Tree. The small window of time through February 23 provides the last opportunity for interested parties to provide comments that may influence the final DRECP. A variety of stakeholders representing the interests of energy companies, environmental advocacy groups and others have been active participants in the development of the DRECP. If we don't take the time or make the effort to contribute constructive comments to the DRECP, more collecting sites may be made inaccessible to amateur rockhounds, and land use policy will be carved in stone with or without our input for the next 25 years.
Lolo National Forest collecting site – Update
By Shirley Leeson
ALAA President – Rockhound Activist

October 19, 2014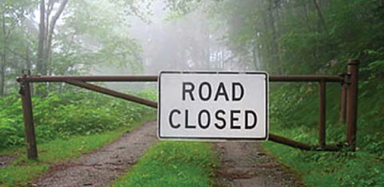 If you or your club had thoughts of a field trip, or if this was on your personal 'bucket list' here is a warning about LOLO NATIONAL FOREST, close to Lolo Hot Springs, on the border of western Montana. The collecting site is CLOSED. The closure will remain in effect until rescinded.
I bring this important information to you because the area is being patrolled by the Forest Service Patrol Unit and the local Sheriff's Department. There are penalties and fines.
This area has been a favorite collecting site for quartz crystals going back many years before the Forest Service had jurisdiction. This is one of those 'land transfer' deals.
Unfortunately, rockhounds have not lived up to the AFMS Code of Ethics and the place looks like a WWII war zone. Let me be frank here, many of them were commercial entrepreneurs who were 'out for a buck,' but we're all painted with the same dirty brush.
In speaking recently with the Forest Service Office that oversees the area, we were informed that the closing was because of concern for the public safety – not animals, but humans. It seems the soil is granitic in nature with only a little topsoil, and when the overburden is removed the topsoil is either washed away or blown away, leaving the granitic material. This is susceptible to cave-ins or undercutting.
We have begun preliminary work with the Forest Service office out of Missoula and will keep you informed as to any progress on the re-opening of this area. In the meantime, stay out or face the consequences.
ALAA in Quartzsite 2015

— Shirley Leeson
THINGS TO DO IN QUARTZSITE
IN JANUARY 2015
Thu, Jan 22 · Ye Old Timer Auction


7:00pm – Senior Center
Moon Mountain Road

Fri, Jan 23 · ALAA Meeting


7:00pm – Quartzsite Alliance Church
720 Desert View
Speaker: BLM Field Mgr John MacDonald
re: La Posa TMP

Sat, Jan 24 · SCRIBE for Editors


9:00am – Senior Center
Moon Mountain Road
Speaker: CFMS President Tom Burchard

Sun, Jan 25 · ALAA Clean-Up


8:00-10:00am – I-10 at I-10 at Tom Wells Road, west of Quartzsite
The ALAA meeting is important because snow birds will have restrictions on the roads they travel in the desert surrounding Quartzsite. BLM Yuma Field Manager John MacDonald will make a presentation on the status of the La Posa Travel Management Plan (TMP). He will address concerns relevant to rockhounds, and the public will have the opportunity to respond to map updates at the January meeting.
See the schedule at right for the ALAA meeting time and place, along with other activities planned in and around Quartzsite during the week before the Tucson Show.
ALAA will be sponsoring its 3rd Annual Clean-Up of a BLM site near Quartzsite on Sunday, January 25. For some perspective on what the clean-up effort accomplishes, in the campaign's first year, BLM estimated that two tons of trash were collected in two hours. Last year a little more than one ton was collected at the same site in two hours. This year ALAA is targeting a new site west of town. It's only two hours, but in that short period of time we make a very big difference, and rockhounds receive good marks from BLM for their efforts.
Online resources concerning compliance
with
Bureau of Land Management

(BLM) rules
when rockhounding
ROCKHOUNDS GIVE SPECIAL MEANING TO ROCK MY WORLD
WHAT'S GOING ON NOW – California Public Lands
West Mojave Route Network Project,
Desert Advisory Council (DAC)
and Desert Renewable Energy Conservation Plan (DRECP)
ACCESS DENIED
(source: http://amlands.org/6652/67112.html)
USEFUL INFORMATION
BLM FAQs
On May 5, 2014, the American Lands Access Association posted an urgent notice on its website concerning the West Mojave Travel Management Plan and its impact on rockhounds, reporting that "The BLM is now requesting that all Gem and Mineral Clubs contact them prior to scheduling field trips to allow them to assess whether or not a Special Recreation Permit is required." More details may be found at: http://amlands.org/6652/67112.html
Background. The BLM's Desert Advisory Council (DAC) was tasked with the responsibility of collecting information and revising the West Mojave Route Project (WEMO RNP), which is a plan concerning administration of many areas (Travel Management Areas) important to rockhounds. The objective of the Project is to revise access to routes and various natural resources, as well as revise their management based on the Council's findings and recommendations. Implementation of recommendations will affect access to and use of rock collecting areas, including old routes that had been closed previously. The WEMO RNP Report of Findings and Recommendations was published on May 24, 2013. Implementation of changes are pending.
Desert Renewable Energy Conservation Plan (DRECP). On April 12, 2011, California Governor Jerry Brown signed into law Senate Bill No. 2X (Joe Simitian, 2011-2012 1st Ex. Sess.), which increases California's renewable energy portfolio standard to 33 percent of all retail electricity sales by 2020. Together with Executive Order #S-14-08, the Senate Bill mandates the development of the DRECP, which is described as "a major component of California's renewable energy planning efforts." The DRECP is a large program being coordinated jointly by the BLM and the State of California in order to identify public lands that are preferred for alternative energy projects and land to be used as mitigation of biologically sensitive areas which will be adversely affected by the implementation of proposed projects. The public notice describes the topic/presentation as follows:
"The Nature Conservancy will provide an overview of their West Mojave Assessment. The DRECP will be a Natural Community Conservation Plan, which will help provide effective protection and conservation of desert ecosystems while allowing for the appropriate development of renewable energy projects. It will provide long-term endangered species permit assurances to renewable energy developers and a process for conservation funding to implement the DRECP. The DRECP will also serve as the basis for one or more Habitat Conservation Plans under the Federal Endangered Species Act. The Stakeholder Committee was established to provide a forum for public participation and input into the DRECP."
Thousands of acres of public lands will be taken away to build wind, solar and geothermal projects. BLM needs to know what areas are important to us in order to preserve them, so that they might avoid building on these areas or excluding us from having access to them. BLM is currently in the scoping period. The size and scope of this project is enormous, but we must address it and respond, if we care about our collecting areas! The DRECP website provides more information on this project: www.drecp.org. Concerned people are encouraged to attend meetings, review documents and write comment letters. Check the DRECP website often for updates. Public notices about forthcoming public hearings, meetings and critical deadlines frequently are posted just days ahead of the date/deadline.
A CHAIN ACROSS THE ROAD AND A KEEP OUT SIGN POSTED –
IS IT LEGAL?
NATIONAL ENVIRONMENTAL POLICY ACT (NEPA)

By Shirley Leeson, ALAA VP – Rockhound Activist
Have you read in the local paper or seen on the TV News feature stories about lawsuits against the US Forestry Service (USFS) and Bureau of Land Management (BLM)? Big words, lots of initials and you have no clue what they are talking about. Would you like to know more but don't know where to turn for this information? I have consulted a group of longtime advocates for access to public lands, and they have shared with me some useful information with the caveat I share it with you.
SOME GOVERNMENT ACRONYMS:
NEPA –

National Environmental POLICY Act

CEQ –

Council on Environmental Quality

EIS –

Environmental Impact Statement

EA –

Environmental Assessment
Signed into law on January 1, 1970, NEPA does not tell us to "protect" the environment. What NEPA does is tell us that we must understand the impacts and effects of the choices we make. In order to understand those choices, an agency has to perform a study. It is supposed to be a scientific study supported by facts, data and logical analysis. The decision that the agency (the USFS or BLM) makes MUST be based on the facts and conclusions derived from the analysis produced for a given study.
NEPA simply tells us to look at what the environmental costs are and make an informed decision. The core of NEPA is to weigh the human benefits of a proposed project against the environmental costs or impact. NEPA does not say that the environment is more important than humans.
Congress's law describing what should be accomplished was broad in scope, but it articulated few details on how to implement it, so the Council for Environmental Quality, known as CEQ, was created. It is a permanent council based in Washington D.C. and is responsible for crafting the details about how to implement NEPA. CEQ is part of the Executive branch of government and therefore is appointed by the President.
Since 1970, the CEQ has created and refined the system, telling agencies how they have to study issues and how to make decisions in order to balance goals. The members of the CEQ are scientists, so not surprisingly, they wanted to see scientific standards applied in the studies. CEQ created three levels of study. EVERY project that has "on the ground" costs must be undertaken under the constraints associated with one of three categories:
Environmental Impact Statement (EIS) –

the biggest, most complex and thorough study;

requires full public participation.

Environmental Assessment (EA) –

less complex and thorough than the EIS; can have less public participation.

Categorical Exclusion (Cat Ex, or "C.E.") –

no formal study required (it can be a one page sheet to document an action that was done); no public notice of participation required at all.
When the Forest Service or BLM is planning a project, it has to decide if the analysis will be done as an EIS, EA or Categorical Exclusion. Every project MUST be classified in one of these categories.
The Forest Service, for example, uses Cat Ex for mundane tasks such as putting up signs, toilets, installing a culvert, fixing a fence, grading and maintaining roads. It's called Cat Ex, because these projects are excluded from the requirements associated with an EIS or EA.
Is your head exploding about now from all this? Don't be discouraged. You will eventually find all this information seeps in to your brain and pretty soon you remember all this without even having to go to your notes.
ADDITIONAL ACRONYMS:
TMR –

Travel Management Rule

MVUM –

Motor Vehicle Use Map
CALIFORNIA FORESTS:
For states other than California, search the phrase "Forestry Travel Management Plan Update" on the web.
For those of you with NATIONAL FORESTS in your state, see the additional information below. Lately, it's topical in the news.
The TMR tells each Forest in the system to make a decision for motorized use, and show it on a map called MVUM. It shows where vehicles are allowed by vehicle type and seasonal closures, if applicable. The TMR does not apply to snowmobiles. The routes (trails and roads) get one of three designations:
Motorcycle only (single track).
ATV and Motorcycle (under 50 inches wide), but no full-sized vehicles.
All vehicles (motorcycles, ATVs and 4WD).
The MVUM is determined by a planning process done under NEPA (see above). That planning process is an Environmental Impact Statement (EIS) and is done for the whole forest, or it can be the smaller Environmental Assessment (EA), which is generally used for a smaller area or smaller project. Ranger District level decisions are usually done under EA.
The TMR decisions also determine whether and where people are allowed to go off a designated route to retrieve big game (elk, deer, and bear) and where people are allowed to 'disperse camp.' Those decisions are not shown on the MVUM.
Dispersed camping means camping out of your vehicle. In the past, the common policy was a 300-foot corridor on either side of all forest roads. One may drive into the forest, find a nice spot by the side of the road and set up camp. These corridors are now being challenged. Watch for further developments.
Special Thanks to the WOMEN'S ACCESS COALITION (WAC), which has provided us with this information. WAC is a longtime advocate for access to public lands, and a group that represents decades of experience in dealing with the USFS and BLM.