SDMG EXECUTIVE BOARD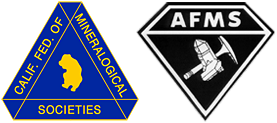 SDMG is a member of the California Federation of Mineralogical Societies and the American Federation of Mineralogical Societies
SDMG's Mission
The San Diego Mineral and Gem Society is a non-profit 501(c)(3) educational and scientific organization. It exists to help people increase their understanding and appreciation of gems, minerals, fossils and the lapidary arts. In order to fulfill that mission, the Society offers classes, field trips, lectures and special programs for a variety of interests. The Society also sponsors a Scholarship Fund and operates a gem, mineral and fossil museum, which is located in the Spanish Village Art Center at Balboa Park, San Diego, California. The Museum features fine specimens collected through purchases and donations. The SDMG Museum is open 7 days a week and is free to the public. For more information about it, please visit the SDMG Museum page.
2014 – 2016

SLATE
SDMG OFFICERS AND DIRECTORS

The Nominating Committee selected the following slate of four (4) officers and seventeen (17) directors for the two-year term from July 1, 2014, to June 30, 2016. This slate satisfies the requirements of the San Diego Mineral & Gem Society Bylaws in that the people named are members in good standing and have agreed to be nominated.
President:

Paul Williams


Vice-President:

Garry Cannon

Secretary:

Ellen Riceman


Treasurer:

Anne Schafer
Board of Directors
Andy Anderson
Rocio Bergum
Bob Hancock
Dee Holland

Lee Jackson
Simon King
Shirley Leeson
Lois Lukasky

Wayne Moorhead
Forrest Nelson
Jim Parrish
Sally Parrish

Doug Peeler
Jane Roush
Dave Smith
Gladys Walker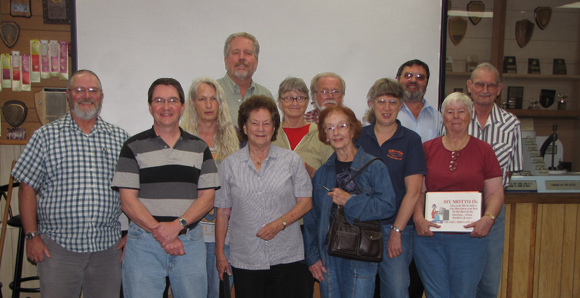 2014–2016 Officers. Left to right: Garry Cannon, Vice President; Wayne Moorhead, School Director; Ellen Riceman, Secretary; Jim Parrish, Museum Curator (back, center); Gladys Walker (front, center); Jane Roush, Mineral Division Chairperson, Scholarship Chairperson; Simon King, County Council Representative; Lois Lukasky, Junior Counselor (front row); Anne Schafer, Treasurer; Paul Williams, President; Shirley Leeson, CFMS Rep and Historian; Dee Holland, Public Lands Chairperson.
Not pictured: Andy Anderson; Rocio Bergum; Angela Cannon, Membership Secretary; Bob Hancock, School Liasion; Lee Jackson; Forrest Nelson, Field Trips Organizer; Sally Parrish; Doug Peeler; Roger Merk, Librarian; Dave Smith.